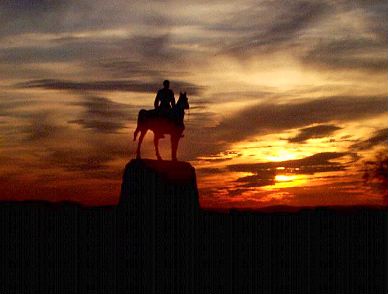 National Park Service
Visitors to Gettysburg National Military Park take home a wealth of memories in the many photographs and images taken of the park and national cemetery. The park not only commemorates the great battle and Gettysburg Address; it also offers a natural and cultural setting that exhibits the beauty and simplicity of this portion of Pennsylvania as well as offering a vast museum of monuments and memorials that compliment the battlefield landscape.
The National Park Service is pleased to offer images, most taken by park staff and volunteers during the past few years, in our photo gallery. Additional photos will be added in the coming years so check back often!
Social Media Connections to Gettysburg National Military Park
Stay connected and up to date with Gettysburg through our sites on social media! We share daily events and news from the park as well as some great history about the battlefield, news about park events, and just about anything else that goes on in your national park!


"Like" our official Gettysburg National Military Park Facebook page to stay up to date on park events, stories, photos and history. And check here for weather advisories or conditions that may have an effect on your visit to the park.

Follow us on Twitter to stay up to date on park news, visitation, and highlights of park events throughout the day.

Cannot get to the park or did you want to see that ranger-guided program from your last visit again? Visit the Gettysburg National Military page on You Tube for the most recent videos and programs the park offers.

Want to dig a bit deeper into park history and management decisions? Check out From the Fields of Gettysburg, the official park blog.