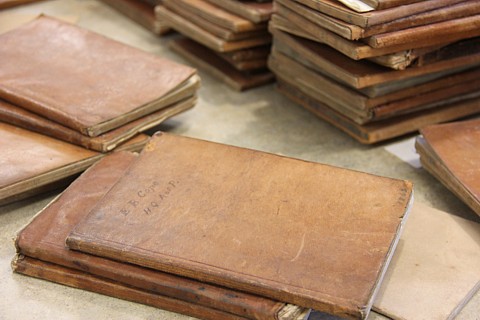 (National Park Service)
"Since Gettysburg's museum exhibits cover all the years of the Civil War, these artifacts will be invaluable in helping us tell the full story of the war, as well as provide unpublished resource materials that will benefit all those who study Gettysburg and the Civil War." said Bob Kirby, superintendent of Gettysburg National Military Park.
Craig Bashein, in announcing the gift, stated that "the Gettysburg National Military Park has done a tremendous job of safeguarding and preserving many of our nation's most treasured artifacts surrounding the Civil War and the Battle of Gettysburg. These newly donated artifacts and materials will offer the American people further opportunity to study and appreciate this important event in our history. As we celebrate the Battle of Gettysburg's 150th Anniversary, I am hopeful this gift will also encourage others to donate their historic and treasured pieces from the Civil War to the Gettysburg National Military Park for the benefit of future generations.
Several objects from General Webb's Collection that were donated by Bashein will be displayed in the Treasures of the Civil War exhibit, opening June 16, 2013, sponsored by the Gettysburg Foundation and Gettysburg National Military Park.

Joanne Hanley, president of the Gettysburg Foundation said "I am thrilled that the park has received this tremendous collection from Mr. Bashein. His donation also helps the Foundation in its campaign to inspire others to leave a legacy for the 150th anniversary of the battle ofGettysburg and Lincoln's Gettysburg Address."
The objects are now in the process of being accessioned into the collection of Gettysburg NMP and will not become available to researchers until later this year.

Bashein's gift was secured with the help of The Union Drummer Boy, a Civil War artifacts dealer located in Gettysburg.

Gettysburg National Military Park is a unit of the National Park Service that preserves and protects the resources associated with the Battle of Gettysburg and the Soldiers' National Cemetery, and provides an understanding of the events that occurred there within the context of American history.