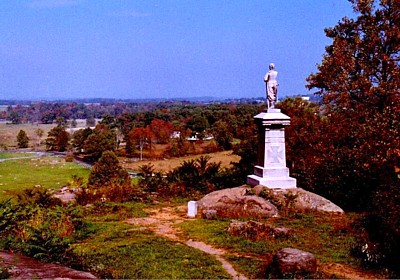 (Harry Waters, National Park Service)
Big Round Top, Little Round Top, East Cemetery Hill, and Culp's Hill, which range from 140 to 200 feet above the surrounding landscape, form the high points of the eastern side of the park. Seminary Ridge forms a long north-south ridge on the western side of the park at 60 feet above the surrounding landscape. Little Round Top is the most visited vista and offers a westerly view across Devil's Den and the "Valley of Death" out toward Eisenhower Farm. Big Round Top has the highest elevation in the park at 785 feet above sea level but offers a limited easterly view due to thick vegetation.
The park also contains three Observation towers: the Longstreet tower, Oak Ridge tower, and Culp's Hill tower. The recently renovated Pennsylvania Monument offers visitors a view of the battlefield from the base of its dome.