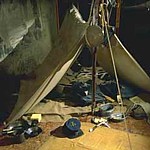 (NPS)
Gettysburg National Military Park is the home of the George Rosensteel Collection, one of the largest collections of Civil War relics in the United States. Bequeathed to the National Park Service by the Rosensteel family, the collection is the center piece of the museum in the park Museum and Visitor Center, and features a vast collection of weapons, uniforms, soldier items, and relics of the Battle of Gettysburg. Some of these items are one of a kind and through the cooperation of other agencies, museums, and individuals, additional Civil War relics are on display side by side with items from the Rosensteel collection.
To view some of the very interesting items related to Civil War soldier life, visit the "Camp Life: Civil War Collections" pages, produced by the Cultural Resources Division of the National Park Service.
---
(National Park Service)
OFFICE OF MUSEUM SERVICES
The Office of Museum Services is responsible for the care and preservation of the park's collection of original historic objects associated with the Battle of Gettysburg and the Soldiers' National Cemetery. These objects, which comprise the park's museum collection, consist of three-dimensional items related to the Civil War, the battle of Gettysburg, and the post-war commemoration of the battle. The Park Archives are also in the Office of Museum Services, composed of original Civil War manuscripts such as diaries, letters, and selected unit records, manuscripts, photos, and maps relative to the development and history of Gettysburg National Military Park. (Civil War and battle related paper items have been copied for the research collection in the park library.)
The Office of Museum Services also has responsibility for the care and maintenance of the exhibits in the Museum and Visitor Center and at the Wills House.
Access to research in the Park Archives or to view items from the collection that are not on display is by appointment only. For further information or to make an appointment, call (717) 334-1124, ext. 1291.
Please Note: Access to items currently on exhibit for research/examination purposes will not be permitted during the period of the year from April 1 through October 31.
---
THE PARK LIBRARY AND RESEARCH CENTER
For textural reference and research about Gettysburg and the Civil War, visit the park's Library and Research Center page.
---