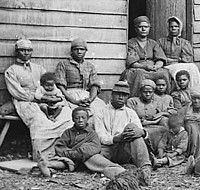 (Library of Congress)
African American Experiences in the Era of the Civil War
Gettysburg is the best-known and most visited Civil War battlefield. It has become a touchstone for millions of Americans, taking on meanings that go beyond the battlefield and Civil War history.
The town's African Americans, who likely understood the causes of the conflict better than any of the town's residents, have been largely ignored by historians. The stories of these individuals — all free on the eve of war — raise important questions about the African American experience in the Civil War:
How did people become free?
How did they protect their freedom?
How did they expand their freedom?
And what, in the end, did it mean to them that the greatest battle in this war for freedom took place in their backyards?