Ranger Guided Student Programs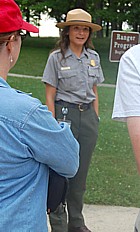 (National Park Service)
There are several ways for your class to explore Gettysburg National Military Park and make the experience one that both students and educators will enjoy!
Our Ranger Guided Student Education Programs are designed specifically for 4th through 12th graders and will get the students directly involved in the dramatic story of the people, places and events that were the Battle of Gettysburg. Program themes include the experience of civilians caught up in the battle, the life of a Civil War soldier, care of wounded soldiers after the battle, and the story of the Solders' National Cemetery and its dedication. These programs are two hours in length. We also offer four different "Battlefield Footsteps" programs that trace the movements of a chosen Union or Confederate organization at the Battle of Gettysburg, each one focusing on a different factor that led to success or defeat.
For the complete list and description of the ranger guided programs we offer, visit our While At The Park page where you can also download your pre-visit materials. For additional assistance,call the Student Education Coordinator at (717) 334-1124, extension 3151.
PROGRAMS FOR STUDENTS IN UPPER GRADE LEVELS
Students in the 9th to 12th grade levels may prefer a visit to the Museum and Visitor Center to see the film "A New Birth of Freedom" followed by the fully restored Gettysburg Cyclorama and museum exhibits, followed by a guided tour of the battlefield with a Licensed Battlefield Guide. Reservations for tickets to the film, cyclorama and museum, and guided battlefield tours should be arranged in advance. Tours of Eisenhower National Historic Site, accessible only by a shuttle bus from the Visitor Center, should also be arranged in advance. Group leaders may call and make reservations for any of these programs and services. We highly recommend that arrangements be made at least seven (7) days ahead of time for a two-hour battlefield tour with a Licensed Battlefield Guide for your group.
Reservations may be scheduled for any date and specified time during the year except for Thanksgiving Day, Christmas Day, and New Year's Day when the park buildings will be closed. Call 1-877-874-2478, or 1-866-889-1243 and one of our reservation specialists will personally assist you in planning your group's visit to Gettysburg. FAX your reservation to (717) 338-1244 or visit the Group Reservations page at the Gettysburg Foundation. Group leaders may also call (717) 334-1124, extension 8023 for further information and schedules.