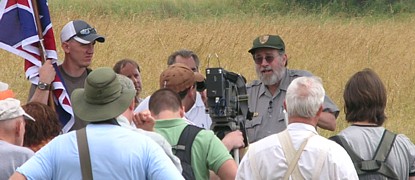 (National Park Service)
WORKSHOPS FOR TEACHERS
Planning Your Day at Gettysburg
Need advice on planning for your class trip to Gettysburg? Or how about some ideas on how to approach the vast subject of the Gettysburg story with your students? What about the science of the battlefield?
To get you started with the support you need, attend one of our Workshops for Teachers. You'll get a jump start to your field trip planning, preview a range of ideas to bring to the classroom and on a field trip, and options to meet the grade level, time frame and size of your group. These four hour-long workshops will be offered annually at the Gettysburg National Military Park Museum and Visitor Center.
DAY(S) WITH DOCUMENTS WORKSHOP
November 12-14, 2014
Your Civil War unit should be an integral part of your Common Core or other document-based learning objectives. Spend timeexploring how Civil War era documents connect with the entire story of our country, and check off several reading, writing, speaking and listening skill sets. At your Day(s) With Documents, you will receive plenty of primary source materials for your classroom, and earn up to 12 hours of continuing education instruction. To register, download and complete the Professional Development Reservation Form today!
Our program is fully booked for this year. Thank you for your interest!
The Richard Bartol, Jr. Educator's Conference, 2016

The Richard Bartol, Jr. Educators' Conference in Gettysburg is for educators who teach the Civil War era to middle school students in Pennsylvania, Maryland, West Virginia, Virginia, New York, New Jersey and Washington D.C., and face challenges in connecting students to the Civil War or lack the necessary tools and approaches to effectively engage their students in Civil War exploration. Details about the next conference will be posted here in 2015.