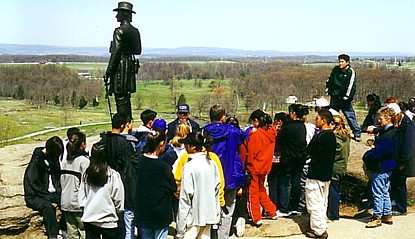 National Park Service
If you are planning a trip to Gettysburg National Military Park, begin by reviewing The Best Field Trip Ever! Planning Kit (pdf- 4.56mb). This package includes all of your options, from the film, cyclorama painting and museum exhibits at the Gettysburg National Military Park Museum and Visitor Center, to the David Wills House, to ranger-guided field programs, battlefield tours with Licensed Battlefield Guides, and more!
Once you've reviewed your planning kit and decided on the best options for your group, download the pdf reservation form for fall 2014 or spring 2015 programs and submit the completed form to the address noted on the form. It's as easy as that!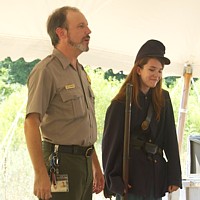 (NPS)
RANGER-GUIDED PROGRAMS 2014-15
Our ranger-guided Student Education Programs for this year are fully booked. Please check back in August for reservation forms for the 2015-16 School Year!