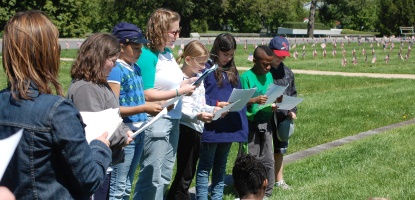 National Park Service
Dear Educator,
We hope the 2014-2015 school year is going well for everyone!
There are always options available for visiting Gettysburg (such as Licensed Battlefield Guides, film, cyclorama and Museum), and all of them, including procedures for reservations, are outlined in the pdf "Best Field Trip Ever!" planning kit on this website.
THE BEST FIELD TRIP EVER! Planning Kit (pdf)
All of our Spring Ranger Field Programs for the Spring 2015 season are booked. For groups still planning to visit the park, we suggest teachers look into hiring a Licensed Battlefield Guide and taking advantage of the programs offered at the Museum and Visitor Center. Thank you for making Gettysburg National Military Park a part of your school year!

"The Best Field Trip Ever!" Planning Kit

If you are planning a trip to Gettysburg, begin by reviewing the Best Field Trip Ever Planning Kit (pdf). This package includes all of your options - from the film, cyclorama painting, and museum exhibits at the Gettysburg National Military Park Visitor Center, to the David Wills House, to ranger field programs and Licensed Battlefield tours, and more!
THE RICHARD BARTOL, Jr. EDUCATOR'S CONFERENCE 2016

The Richard Bartol, Jr. Educators' Conference in Gettysburg is for educators who teach the Civil War era to middle school students in Pennsylvania, Maryland, West Virginia, Virginia, New York, New Jersey and Washington D.C., and face challenges in connecting students to the Civil War or lack the necessary tools and approaches to effectively engage their students in Civil War exploration. Further details will be announced in 2015.

(NPS)
THE AMERICAN CIVIL WAR
Learn more about the people, the places, and the meaning of the war to Americans today at the official National Park Service web site on the Civil War.


The Best Field Trip Ever!

A planning kit for educators bringing their students to Gettysburg. (pdf) Read More

The Gettysburg School Bus

A blog for educators by Barb Sanders, Education Specialist at Gettysburg. Read More

The Civil War: 150 Years

The National Park Service observes the sesquicentennial of the Civil War. Read More