Change in Park Hours

The George Rogers Clark Memorial and Visitor Center are now closed on all federal holidays except Memorial Day, July 4th, and Labor Day.
Summer 2012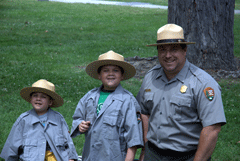 Picture yourself in a National Park. This spring and summer promises to be filled with new and exciting events at George Rogers Clark National Historical Park (GRC). GRC, in partnership with the Knox County Public Library and other local sites, is offering a variety of programming for kids of all ages. Come out and join the fun! The park is open seven days a week from 9 am until 5 pm (ET). The memorial closes at 4:45 pm. Entrance is free as are all of the programs listed here.
Explore the different cultures that called Vincennes home in the 18th century through the four manikins in the Visitor Center at 401 S. 2nd Street. Visualize the suffering and brutal conditions that George Rogers Clark's soldiers endured on the march to capture Fort Sackville from the British by viewing the park movie.
The George Rogers Clark Memorial represents the gratitude that the United States showed George Rogers Clark and his heroic soldiers. Inside the memorial is a statue of Clark and seven murals that illustrate the trials and tribulations of George Rogers Clark and their significance.
Experience the sights, sounds, and even smells, of the frontier by visiting with a park ranger dressed in period clothing during the summer.
The park has partnered with the Knox County Public Library's Summer Reading program. Some of this year's reading choices will include mysteries that are solved by kids and their parents. The library is located at 502 N. 7th Street in Vincennes.
If you have any questions about the programs, please contact park ranger Jason Collins at 812-882-1776 ext. 207.
Saturday June 9 - Frontiersman DayAdults and children had to have a variety of skills to survive on the frontier. Learn how to cook food on the frontier, try on 18th century clothing, pick up a musket and "join up" with Clark's soldiers, and other activities. The program lasts from 1 until 4 pm.
Wednesday June 13 - What do Rangers do?Protecting park resources and visitors is the job of a park ranger. Follow in the footsteps of a ranger by trying on a ranger uniform, and other equipment used by rangers.
Wednesday June 20 - Archaeology Day at Fort Knox II: Get your hands dirty and see what you can dig up in a mock archaeological dig. See and learn about artifacts found at Fort Knox.
Wednesday June 27 - The Grand Canyon:The Grand Canyon is one of the most easily recognizable National Parks in the country. A special presentation will be conducted about the park and its significance.
Friday June 29 - Movie Night: Experience America's special places by viewing a selection of movies from parks such as Lincoln Home, Dayton Aviation (the Wright Brothers), andGrand Canyon. Program starts at 6:30 pm at the George Rogers Clark NHP Visitor Center.
Thursday July 3 - Web of Life Program at Fortnightly Building: Nature is filled with a wide variety of animals and flowers. Experience how different species of animals and flowers work together in nature. The Fortnightly Building is located at the corner of 6th and
Seminary Streets in Vincennes.
Saturday July 7 - Outdoor Exploration Day at Ouabache Trails: A species is disappearing from the park. Help park staff by following clues to solve the mystery. Program runs from 1 PM until 4 PM. Ouabache Trails is located at 3500 N. Lower Fort Knox Rd. in Vincennes.
Wednesday July 11 - Scavenger Hunt at GRC: By following clues, you can find out why an event happened in the park when it did. Program will start at 10:30 am.


Thursday July 19 - Summer Reading Finale at Knox County Public Library: The library and GRC will be holding a final celebration for all participants in the summer reading program at the library at 10:30.
Saturday August 25 - Early Vincennes Culture Day at GRC: Many different groups of people have called Vincennes home since the 18th century. Experience the early history of
"Indiana's First City" through games that Native Americans played, music the French would have enjoyed, along with the experiences of the British soldiers who were stationed at the fort.
Saturday September 22 - Astronomy Night at GRC:Ever look up at the sky and wonder about the stars and planets? People have been staring at the sky and wondering the same thing for generations. Come to the park and see how to look for stars in the night sky, along with many other exciting activities. Program runs from 5 pm until 8 pm.
Did You Know?
British Lieutenant Governor Henry Hamilton, after his release from an American prison, became the British governor of the islands of Bermuda and Antigua. More...