Change in Park Hours

The George Rogers Clark Memorial and Visitor Center are now closed on all federal holidays except Memorial Day, July 4th, and Labor Day.
George Rogers Clark March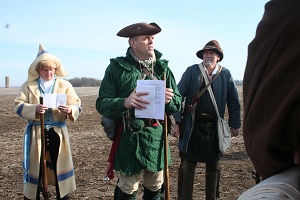 Photo courtesy of George Rogers Clark NHP
On February 16, 1779, George Rogers Clark's army continued their trek to Vincennes. They had been marching for 11 days and Captain Joseph Bowman confided in his journal "…our provisions began to be short." Little did the group know that they were still seven days away from reaching town and the worst of their journey remained. They found nothing but freezing water and "hard fortune." Their greatest enemy would not be the British or the Indians, but the forces of nature. The only thing that kept them going was the fact that soon they would get revenge on the "Hairbuyer" Henry Hamilton for his crimes.
On February 16, 2013, exactly 234 years after Captain Bowman wrote these words, you are all invited to join us for part of the same trek that Clark's men undertook. This year's version of the annual George Rogers Clark March will be the traditional (approximately five miles) walk.
After the Van-Go buses depart the visitor center, they will travel down S. Sixth Street Road to a point near the original Sugar Camp of 1779. From there, the group will walk roads that closely parallel Clark's actual route into town. Safe to say that no one who participates in the march will have to march through the water the way Clark's men did (unless there are some who feel adventurous!). This year's Clark March will take much the same form as the 2012 version, with park staff and volunteers taking on the roles of Clark's soldiers, an Indian woman, a French-Canadian volunteer, and the duck hunter. Jason will provide commentary, but men and women portraying those who were there will tell much of the story.
The particulars for the march have not changed. The buses will arrive at the Visitor Center around 9:30 AM and depart at 10:00 AM (Eastern Time) from the visitor center at 401 S. 2nd St. in Vincennes. Remember, the walk will take place no matter what the weather conditions, so please dress appropriately! 18th century dress is recommended but not required. There is no fee charged for the march.
Pre-registration is encouraged. Please contact Ranger Jason Collins at 812-882-1776 ext. 207 or jason_m_collins@nps.gov by Wednesday February 13, if you are interested in attending.
Did You Know?

Did you know that America was able to gain possession of the Old Northwest Territory because of the actions of George Rogers Clark and his men on the far western frontier during the Revolutionary War?