Kentucky: Entering the Great Valley
This mural represents George Rogers Clark on a white horse leading a group of settlers down the west slope of the Allegheny Mountains. Its title "KENTUCKY: ENTERING THE GREAT VALLEY" symbolizes the entrance of settlers from the Atlantic seacoast into the Ohio Valley, which was the entering wedge for the occupation of the Mississippi Valley, the heart of the continent.
In the 1770's streams of settlers entered the valley by way of the Ohio River, by way of the road which Daniel Boone, in the employ of Judge Richard Henderson, cut from the mountain pass into the heart of Kentucky, and from North Carolina to what is now Tennessee.
The last mentioned was the first chronologically, but it was Clark's leadership in organizing the settlers at Harrodsburg, in forming the county of Virginia, and in securing provision for its defense by Virginia that insured the permanent occupation of the country south of the Ohio River.
Ezra Winter, Artist
Did You Know?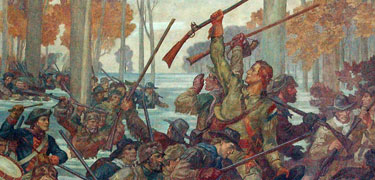 George Rogers Clark was the older brother of William Clark (of Lewis and Clark fame). George is considered the conqueror of the Old Northwest Territory, having won a major victory at Vincennes, Indiana. More...