Change in Park Hours

The George Rogers Clark Memorial and Visitor Center are now closed on all federal holidays except Memorial Day, July 4th, and Labor Day.
2013 Freezer Jam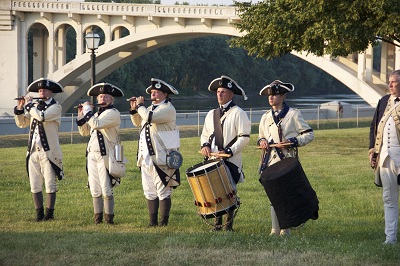 2013 Freezer Jam is coming to Vincennes
The Spirit of Vincennes, Inc. and the Vincennes/Knox County Convention and Visitors Bureau are proud to announce that Vincennes, IN, will host the 2013 Fife, Drum, and Bagpipe Freezer Jam.
Attend any early American military living history event and there likely will be a fife and drum corps performing. Dressed in splendid uniforms they march in step while performing tunes of the era. Their music immediately takes one to a time when these instruments served important roles on and off the battlefield. Each year a number of these dedicated musicians gather for a winter assembly known as Freezer Jam. During the 2013 event, participants will have the opportunity to learn from some of the best in the hobby. They will share stories and information, learn what other corps are doing, and improve their performance overall.
This prestigious gathering of musicians will occur in Vincennes, IN, Feb. 23, 2013. A public performance will take place at 7 p.m. at the Red Skelton Performing Arts Center on the campus of the Vincennes University. For more information about the Freezer Jam, check out the Freezer Jam website.
Did You Know?

The George Rogers Clark Memorial was administered by the State of Indiana untill 1966 when it was adopted into the National Park Service. President Lyndon Baines Johnson visited the park and signed the act which made it a national historical park. More...