New expanded days!

As of April 9th 2014 we will be open Wednesday through Monday until further notice. We remain closed on Tuesdays. Operating hours will remain the same.
Nearby Attractions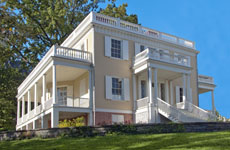 NPS
National Parks of New York Harbor
The National Park Service manages several natural, cultural, historical, and recreational sites throughout the New York City area. For more information please visit our website. Click here.
Official New York City Visitors Website
New York City is world famous for its many sites and attractions. For other things to do surrounding General Grant National Memorial you may visit the official City of New York visitor page. Click here. (You will be leaving the National Park Service website)
Did You Know?

The formal copy of U.S. Grant's surrender terms for the Confederate Army at Appomattox was scribed by Ely S. Parker, a Seneca Indian and Lieutenant Colonel during the Civil War. As President, Grant appointed Parker Commissioner of Indian Affairs. He was the first Native American to hold that post.