Thanksgiving

This site will be closed on Thursday 11/28/13 in honor of Thanksgiving. The site will reopen on Friday 11/29/12 with the normal operating hours.
Nearby Attractions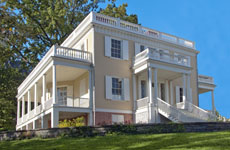 NPS
National Parks of New York Harbor
The National Park Service manages several natural, cultural, historical, and recreational sites throughout the New York City area. For more information please visit our website. Click here.
Official New York City Visitors Website
New York City is world famous for its many sites and attractions. For other things to do surrounding General Grant National Memorial you may visit the official City of New York visitor page. Click here. (You will be leaving the National Park Service website)
Did You Know?

Ulysses S. Grant served two terms as president, from March 4, 1869 until March 4, 1877. He was the eighteenth president, following Andrew Johnson and preceding Rutherford B. Hayes.