Nearby Attractions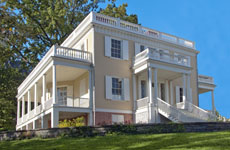 NPS
National Parks of New York Harbor
The National Park Service manages several natural, cultural, historical, and recreational sites throughout the New York City area. For more information please visit our website. Click here.
Official New York City Visitors Website
New York City is world famous for its many sites and attractions. For other things to do surrounding General Grant National Memorial you may visit the official City of New York visitor page. Click here. (You will be leaving the National Park Service website)
Did You Know?

After the Civil War, calls went out for Confederate leaders to be tried for treason. Ulysses S. Grant insisted that Robert E. Lee, who had been paroled at Appomattox, could not be put on trial, and the matter was dropped. More...