Change in closing days

Starting September 22nd 2014 we will be closed on Mondays and Tuesdays. The site will be opened Wednesday through Sunday until further notice. Operating hours will remain the same.
Nearby Attractions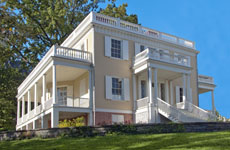 NPS
National Parks of New York Harbor
The National Park Service manages several natural, cultural, historical, and recreational sites throughout the New York City area. For more information please visit our website. Click here.
Official New York City Visitors Website
New York City is world famous for its many sites and attractions. For other things to do surrounding General Grant National Memorial you may visit the official City of New York visitor page. Click here. (You will be leaving the National Park Service website)
Did You Know?

"The Personal Memoirs of Julia Dent Grant" (Mrs. Ulysses S. Grant) were not published until 1972, nearly 80 years after Mrs. Grant wrote them. They were considered too close to the private life of her husband to be published in the 1890s.