New expanded days!

As of April 9th 2014 we will be open Wednesday through Monday until further notice. We remain closed on Tuesdays. Operating hours will remain the same.
Fees & Reservations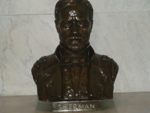 NPS
Fees
Admission to the site is free.
Commercial filming and photography as well as other special uses, when appropriate, may be approved through a permit. Fees and cost-recovery may apply. Please follow the "Permits" link on the left for more information.
Reservations
Ranger-guided tours for groups larger then 10 persons are available by reservation only. These reserved tours are subject to availability.
To request a ranger-guided tour for your group, please complete the request form and fax it to (212) 932-9631. Requests are accepted for group tours on Mondays, Thursdays, and Fridays, and are based on staff availability. Group requests must be received at least 2 weeks in advance of the requested date.
For class field trips please click on the "For Teachers" link to the left.
For more information about group requests call (212) 666-1640.


Did You Know?

The formal copy of U.S. Grant's surrender terms for the Confederate Army at Appomattox was scribed by Ely S. Parker, a Seneca Indian and Lieutenant Colonel during the Civil War. As President, Grant appointed Parker Commissioner of Indian Affairs. He was the first Native American to hold that post.