Change in closing days

Starting September 22nd 2014 we will be closed on Mondays and Tuesdays. The site will be opened Wednesday through Sunday until further notice. Operating hours will remain the same.
Fees & Reservations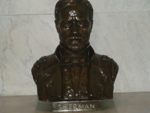 NPS
Fees
Admission to the site is free.
Commercial filming and photography as well as other special uses, when appropriate, may be approved through a permit. Fees and cost-recovery may apply. Please follow the "Permits" link on the left for more information.
Reservations
Ranger-guided tours for groups larger then 10 persons are available by reservation only. These reserved tours are subject to availability.
To request a ranger-guided tour for your group, please complete the request form and fax it to (212) 932-9631. Requests are accepted for group tours on Mondays, Thursdays, and Fridays, and are based on staff availability. Group requests must be received at least 2 weeks in advance of the requested date.
For class field trips please click on the "For Teachers" link to the left.
For more information about group requests call (212) 666-1640.


Did You Know?

On December 17, 1863, Congress awarded the only gold medal given by the United States Government to a soldier in the Civil War to General Ulysses S. Grant. The award was in appreciation for the capture of Vicksburg and Chattanooga by forces under his command.