Phone Lines are Currently Down

Phone lines at General Grant National Memorial are currently down. If you would like to contact the park, please use the "E-mail Us" link. More »
Directions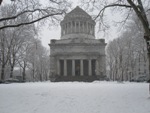 General Grant National Memorial is in Riverside Park in Manhattan. The entrance of Grant's Tomb is near the intersection of Riverside Drive and West 122nd Street.
Please see the links on the left for Public Transportation, Carpooling/Vanpooling and Bicycling Information options.


Did You Know?

Choosing to return to the front during the Civil War, General Ulysses S. Grant declined to attend a White House party in his honor with the statement, "Really, Mr. Lincoln, I have had enough of this show business."