New expanded days!

As of April 9th 2014 we will be open Wednesday through Monday until further notice. We remain closed on Tuesdays. Operating hours will remain the same.
Directions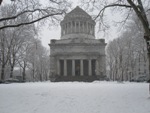 General Grant National Memorial is in Riverside Park in Manhattan. The entrance of Grant's Tomb is near the intersection of Riverside Drive and West 122nd Street.
Please see the links on the left for Public Transportation, Carpooling/Vanpooling and Bicycling Information options.


Did You Know?

Ulysses Grant narrowly missed Abraham Lincoln's assassination. Mr. and Mrs. Grant were invited to Ford Theater with President and Mrs. Lincoln. However, he and his wife decided to travel to New Jersey to visit their children instead. Had Grant attended, he may have been a target as well.