Change in closing days

Starting September 22nd 2014 we will be closed on Mondays and Tuesdays. The site will be opened Wednesday through Sunday until further notice. Operating hours will remain the same.
Bicycling Information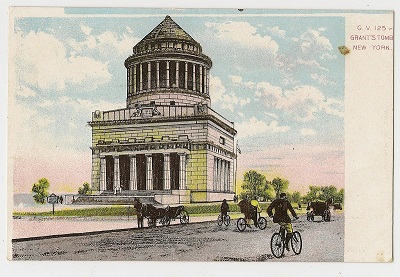 NPS
Bicycling around "Grant's Tomb" has been popular since the mausoleum was dedicated in 1897. It is a great way arrive at the national memorial for individuals, families, or clubs. In keeping with the memorial's purpose, bicycling, skating, etc. is not permitted in the plaza or on the steps. Operators must dismount when travelling through those areas.
Bicyclists are welcome to use the racks that are provided, outside the mausoleum, to secure their bikes.
Bicycle Routes
The New York City Department of Transportation web page on bicycling in our host city includes information on how to plan a route. You can find it by clicking HERE



Did You Know?

Choosing to return to the front during the Civil War, General Ulysses S. Grant declined to attend a White House party in his honor with the statement, "Really, Mr. Lincoln, I have had enough of this show business."