New expanded days!

As of April 9th 2014 we will be open Wednesday through Monday until further notice. We remain closed on Tuesdays. Operating hours will remain the same.
Bicycling Information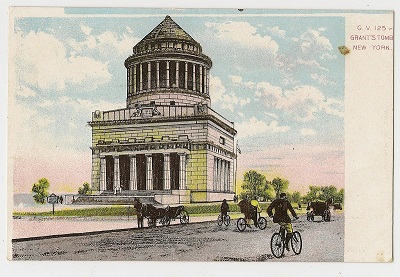 NPS
Bicycling around "Grant's Tomb" has been popular since the mausoleum was dedicated in 1897. It is a great way arrive at the national memorial for individuals, families, or clubs. In keeping with the memorial's purpose, bicycling, skating, etc. is not permitted in the plaza or on the steps. Operators must dismount when travelling through those areas.
Bicyclists are welcome to use the racks that are provided, outside the mausoleum, to secure their bikes.
Bicycle Routes
The New York City Department of Transportation web page on bicycling in our host city includes information on how to plan a route. You can find it by clicking HERE



Did You Know?

On December 17, 1863, Congress awarded the only gold medal given by the United States Government to a soldier in the Civil War to General Ulysses S. Grant. The award was in appreciation for the capture of Vicksburg and Chattanooga by forces under his command.