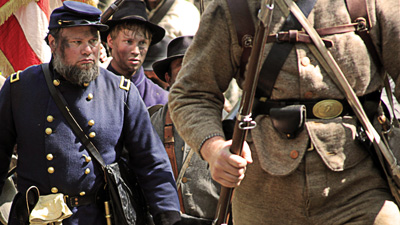 Great Divide Pictures
General Grant National Memorial is pleased to be partnering with 12 other National Parks and 26 other institutions throughout the nation as a venue for the preview screening of Episode Five of Great Divide Pictures public television series Civil War: The Untold Story. The screening is on Tuesday, February 4, at 7:30 p.m. at the Faison Firehouse Theatre in Harlem, N.Y.C. at 6 Hancock Place (on 124th St., between Morningside & St. Nicholas Avenues). Episode Five will be introduced by Chris Wheeler, of Great Divide Pictures, who produced and directed the entire series. In addition there will be recitations, dance pieces, and a speech entitled, "New York City During the Civil War" presented by a park ranger from African Burial Ground National Monument.
Civil War: The Untold Story is a visually stunning and absorbing new 5-hour documentary series that breaks new ground by examining the war through the lens of the Western Theater - battles in the strategic lands between the Appalachians and Mississippi River. Narrated by Elizabeth McGovern (Downton Abbey) the series is set to premiere nationally on public television stations beginning in February 2014.
Rather than revisit the oft-told stories of the battles of Bull Run, Antietam and Gettysburg in the eastern states of Pennsylvania, Maryland and Virginia, this gripping and comprehensive new series instead tells the stories of Shiloh, Vicksburg, Chickamauga, Atlanta, and other battles in lands then known as "the West." Many historians believe that the Western Theater was where the war was won – and lost. In addition to the epic battles, Civil War: The Untold Story provides new insights into the relatively unknown roles African Americans played in the conflict – from enslaved, to emancipated, to soldier.