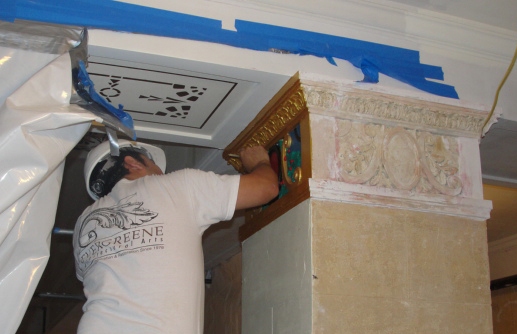 NPS PHOTO
Old features restored, new visitor services added in restoration
In the newly restored center, visitors can view newsreels from the airfield's heyday via a touch screen and enjoy historic exhibits. Children can "fly" a mini-airplane and test their paper airplane design skills.
During the three-year renovation, the Ryan Center was painstakingly restored to its original look during the Golden Age of Aviation in the 1930s, when Floyd Bennett Field served as New York City's municipal airport. Paintings and panels depicting modes of transportation from the steam engine to the dirigible have been restored to their 1939 appearance. Electrical, fire suppression, and heating, ventilation, and air conditioning systems have been upgraded. A new elevator has been added for increased accessibility.
To find out about Phil Thys, the watercolor artist who worked on some of the exhibit panels, click here.