Permits
SPORT FIELDS: Current rates and processes are being evaluated. Please check the unit permits webpage periodically for updates. New processes and rates will be implemented for calendar year 2014.
When do I need to apply for a Special Use Permit?
Permits are Required for a Variety of Activities in a National Park: In order to monitor and regulate the use of the park while still conserving the scenery, natural and historic objects, and wildlife within park boundaries, all National Park Service areas require special use permits for certain activities.
Gateway's policy is to accommodate requests for special use permits when and where possible. However, the primary consideration must be given to potential resource damage and to anticipated disruption of normal public use.
Permit Fees are non-refundable and are based on an annual cost recovery analysis. The permit fee includes the cost of permit processing, issuance, administration and billing of permit activity. Parks do not make a profit from permit fees.
Where do I start?
Gateway National Recreation Permits: Generally each unit of Gateway National Recreation Area processes its own permit applications. Fishing Parking permits and Temporary Food Events (TFE) permits are the only park-wide permit. To apply, contact the offices of the unit where the activity will take place.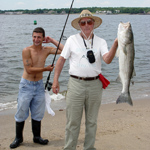 Gateway's Fishing Parking Permits are required at some fishing sites in Brooklyn, Queens and Staten Island, and for night fishing at Sandy Hook. It is an annual fishing parking permit good for the calendar year at any unit within Gateway National Recreation Area.
2013 Fishing Permits are being sold at the Ryan Visitor Center at Floyd Bennet Field, at the Front Gate at Sandy Hook and at Great Kills Ranger Station in Great Kills Park where you can also obtain a Nature Study Permit. This permit is ONLY valid in open areas. Permittee may check the alert page for opened and closed areas.
Permits & Reservations at Gateway Park Units
Jamaica Bay Unit: Permits and/or reservations are required for parking (beach, fishing, off-road and archery), public camping, youth group camping and programs at Ecology Village, picnics, ceremonies, athletic fields, gardens, facility, special events, after hours park access, filming, photography and other.Jamaica Bay Unit includes Floyd Bennett Field, Jacob Riis Park, Fort Tilden, Jamaica Bay Wildlife Refuge, Plumb Beach, Bergen Beach, Canarsie Pier and Frank Charles. e-mail us.
Sandy Hook Unit: Permits and/or reservations are required for parking (beach and fishing), ceremonies, camping, after hours park access, facility, special events, filming, photography and other. Sandy Hook Unit includes historic Fort Hancock as well as the beaches at Sandy Hook. e-mail us.
Staten Island Unit:
Permits
and/or reservations are required for parking (fishing, boat trailer and nature study), overlook, ceremonies, athletic fields, garden, after hours park access, special events, filming, photography and other. Contact 718-354-4617/4574 or
e-mail us
.
Do you need a permit for a First Amendment Activity?
First Amendment Activities: Freedom of speech, press, religion, and assembly are constitutional rights. However, the courts have recognized that activities associated with the exercise of these rights may be reasonably regulated to protect park resources.
A small group is defined as "25 people or less." A "small group" is not required to obtain a First Amendment Permit if they are located within a park designated First Amendment site and have no more than leaflets, booklets and/or hand held signs. A permit is required for any small group that:
a) wants to hold a demonstration or distribute and/or sell printed matter somewhere outside a designated First Amendment area. b) wants to use equipment (i.e. tables, banners, platforms, etc.) even if it is within a designated area. c) is merely an extension of another group already availing itself of the 25 person maximum. d) wants to guarantee they will have priority for the use of a location, including the designated First Amendment areas.
A large group is defined as "more than 25 people" and is required to obtain a First Amendment Permit even if they are utilizing a park designated First Amendment site. There are no permit fees associated with First Amendment permits.
To read more information on First Amendment and designated unit areas, click here.
Contact the individual park unit for information on the application process for First Amendment Permits.


Permits

Commercial filming and photography and planning large, one-time events requires a permit from one of Gateway's three units. NOTE: Parts of Gateway remain closed. In some cases but not all, permits are not being issued for these areas until they reopen. Read More

Fishing Parking Program

Learn more about the Fishing Parking Permit Program. Know the rules and regulations for all units of Gateway. Read More
Did You Know?

Journalist Jacob Riis was called "New York's most useful citizen," by Theodore Roosevelt. Riis often accompanied Police Commissioner Roosevelt in raids exposing the hardship of life for New York City's poor and immigrant populations and published his photos in newspapers. More...