Fees & Reservations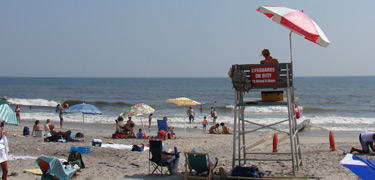 NPS PHOTO
Entrance fees? No. Parking fees? Yes, sometimes.
There are no entrance fees for Gateway National Recreation Area. Fees are charged for Expanded Amenities, such as parking to access beach centers at Jacob Riis Park in Queens, New York and Sandy Hook in Highlands, New Jersey. See Expanded Amenity Fees below for more information.
Fees are also charged for permits associated with several activities within park boundaries. Some activities at Gateway---including camping, photography, filming and miscellaneous special uses of the park---require the user to obtain a permit in advance. Permits are issued by the unit of the park where the activity will take place.
Reservations
Most public programs and organized group tours are free of charge, but some require advance reservations. Visit our Things To Do webpage for a list of park programs.
Expanded Amenity Fees
From Memorial Day weekend to Labor Day, an expanded amenity fee for Beach Parking is charged per vehicle during fee collection hours (collection hours vary by location).
| | | | | | |
| --- | --- | --- | --- | --- | --- |
| Location | Hours of Collection | Vehicles <20' Daily | Vehicles <20' Season | Oversized >20' Daily | Oversized >20' Season |
| Jacob Riis Park | 7:00AM -6:00PM | $10.00 | $65.00 | $20.00 | $130.00 |
| Sandy Hook | 7:00AM - 5:00PM | $15.00 | $75.00 | $30.00 | $150.00 |
Does Gateway offer any Discounts or Free Beach Parking?
Yes. Access Pass (Golden Access) and Senior Pass (Golden Age Passport) holders receive a 50% discount. Please note that the America the Beautiful Pass holders do NOT receive a discount.
As of May 19, 2012, Active Military Members who own an America the Beautiful Annual Pass will receive free beach parking at Gateway where parking fees are charged, including Jacob Riis Park and Sandy Hook. Active duty military photo identification will be required at all times to verify ownership of the Annual Pass. Vehicle Hang Tag is to be displayed at all times (hang tag is issued with annual pass).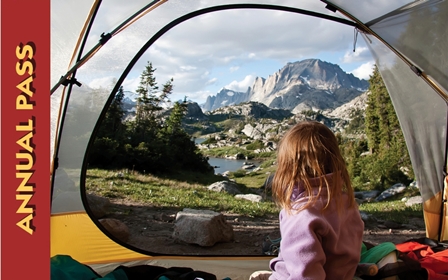 USGS
How do I obtain an Interagency Pass?
AMERICA THE BEAUTIFUL PASS SERIES: As of January 1, 2007 the old Golden Eagle and Golden Access Passes were replaced with a new series of interagency passes called the America the Beautiful - National Parks and Federal Recreational Lands Pass. All Golden Access and Golden Age Passports will continue to be honored according to the provisions of the pass. Only paper Golden Age and Access Passports may be exchanged free of charge for new plastic passes. The America the Beautiful Pass Series includes the Annual Pass, Senior Pass, Access Pass and Volunteer Pass and the free annual pass for active military and their dependent families, introduced in 2012. Please visit the USGS Store website for more information or to purchase online.
Are Passes Available for Purchase at Gateway?
Some passes are available at some locations of Gateway. The following passes are available:
Access and Senior Pass

Jamaica Bay Unit: Floyd Bennett Field Visitor Contact Station (Brooklyn), Sun-Sat, 718.338.3799; Jamaica Bay Wildlife Refuge Visitor Center (Queens), Sun-Sat, 718.318.4340.

Sandy Hook Unit: Lighthouse Keepers Quarters all year. Entrance Station from 4/12/14 - 9/1/14.


Staten Island Unit: Great Kills Park Visitor Contact Station, Wed-Sun, 718.987.6790 & Miller Field Visitor Contact Station, Wed-Sun, 718.351.6992.

Annual Pass
Gateway does not charge entrance fees and this pass is not sold at Gateway (with the exception of limited passes available for pick-up by Active Duty Military Members with proof of identification, available at toll booths during fee collection hours). You can visit the USGS Store for purchase or find a list of parks with entrance fees.