Sandy Hook's False Tip Closed

The false tip area of Sandy Hook is closed due to safety concerns while the Army Corps of Engineers continues their dredging operations.
Camping at Fort Wadsworth, Staten Island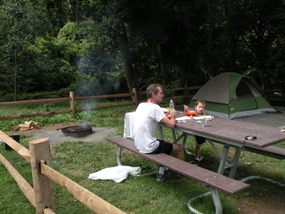 NPS PHOTO
Public Camping at Fort Wadsworth, Staten Island
Contact Number: 718-354-4655
Overnight tent camping is now available on Staten Island at seven camp sites.
Camping reservations can be made online at www.recreation.gov.
Rates: $20 per day for a maximum of 14 days.
Size limits: Up to six people may camp at a single site. Sites are large enough for one large tent or two small tents.
What to bring: You must bring your own tent and sleeping bags. You should also bring sunscreen and insect repellant.
Amenities: Camp sites are primitive. Each has a picnic table, a grill and a fire ring. (See Campground Rules and Regulations for pointers on fire safety.) Restrooms and cold showers are located at the facility.
Access to Public Transportation: The S51 bus will leave you near the main entrance (camp office, 220 New York Avenue), while the S53 bus will leave you by the rear entrance (rear entrance closes at 7:00 pm).
Check-in/Check-out: Check-in time is 12:00 pm and check-out time is 10:00 am at building 220 New York Avenue, located at the main entrance to Fort Wadsworth (Across from guard booth).
After hours access: To access the campgroud requires displaying your camp confirmation letter to the guards at the main entrance to Fort Wadsworth. The guard will provide campers with their parking pass, which is required.
Did You Know?

Did you know that many celebrities visited Fort Hancock in World War II? Judy Garland performed for the soldiers at Fort Hancock in 1943. Lana Turner also visited the fort during the war. More...