Gateway celebrates "40 Fabulous Years"
NPS PHOTO by Dan Meharg
Join in the Celebration October 26-28!
Gateway begins a year-long celebration of its 40th birthday beginning October 27, 2012 with two major events: Fort Hancock Days at Sandy Hook, New Jersey, and planting hundreds of trees at Floyd Bennett Field in Brooklyn.
Fort Hancock Days at Sandy Hook, New Jersey
Fort Hancock Days takes place October 26 through 28 at Gateway's Sandy Hook Unit. The event honors Sandy Hook's two centuries of military history, from the Revolutionary War to the age of nuclear missiles. Costumed interpreters will demonstrate how the fort protected New York Harbor from invasion by sea, especially through World War II when German U-boats crept close to New Jersey's shores.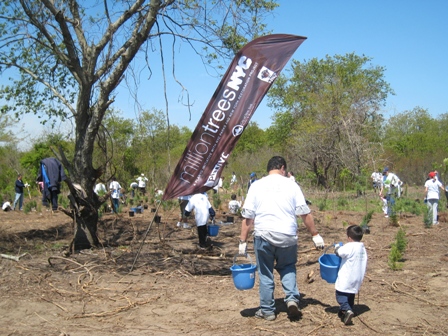 NPS PHOTO by Jennifer Cox
How Gateway became a national park
Gateway National Recreation Area was one of three urban national parks created in 1972 designed to bring recreation, outdoor experience, waterfront access and a national park experience to densely populated urban areas of San Francisco, Cleveland and New York City.
This daring move-creating park land in areas not traditionally viewed appropriate-was the vision of U.S. Congressman William Fitts Ryan, who sponsored the legislation creating the parks. Several issues helped shape the concept and creation of these National Park Service areas:
social unrest and race riots in many urban areas during hot summers;
recreation as a valid reason for park establishment;
giving closed military property on shore/waterfront areas a second life;
restriction of real estate development of shore property.
The Act of Congress that created Gateway National Recreation Area was signed into law by President Richard Nixon on October 27, 1972. Former city park lands and military sites, most of them isolated from each other by land, were unified into a new park covering several thousand acres in New York City and Sandy Hook, New Jersey. Each area was chosen for different reasons: natural wonder and scenic beauty, opportunities for recreation and military and cultural history. Sadly, Ryan died shortly before the park was created. As part of the legislation creating Gateway, Congress named the visitor center at Floyd Bennett Field in Ryan's honor.
Millions of people and wildlife creatures visit gateway each year. In the last 40 years, areas once strewn with tires, abandoned cars and refrigerators now offer clean land and water for an increasing diversity of wildlife. Deteriorating salt marsh islands in Jamaica Bay are being restored as habitats for marine animals and birds. Threatened and protected species, from the piping plover to the osprey, are coming back. Most recently, overnight camping has been added to all three units of the park. A new partnership with New York City helps bring together park areas divided by the 1972 legislation. Things are looking up for this urban national park. See for yourself!
Floyd Bennett Field's rich aviation history

New York City's first municipal airport later served the Naval Air National Guard. Today it's an overnight campground, a historic site and a wildlife area. Read More

Oral Histories from World War II Era

Women and men served in the U.S. Army at Fort Hancock during the war. Read their stories. Read More