Four Junior Rangers discuss their interest in nature and national parks during Junior Rangerpalooza, held at Gateway's Great Kills Park on Staten Island.

Duration:

2 minutes, 7 seconds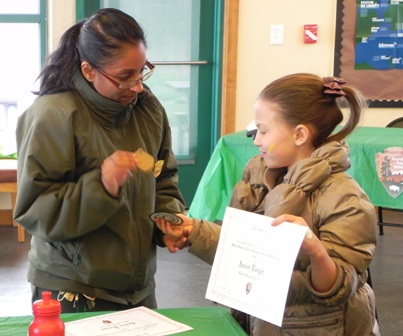 NPS PHOTO
The second annual Junior Rangerpalooza was held April 16 in celebration of Junior Ranger Day. At Staten Island Unit's Great Kills Park, 12 new Junior Rangers braved high winds and looming storms to receive a Junior Ranger badge, certificate and patch for living up to the Junior Ranger Motto: "Explore, learn, protect."
"I've been looking forward to it," said Junior Ranger Michael Furio who said he found out about the event from the park website. He enjoys going to national parks to do junior ranger activities and to get stamps for his collector's edition park passport. "Park rangers teach us, guide us and protect the environment," he said. "They're good examples."
Young people flocked around activity stations at Great Kills Park's Education Field Station. They learned about the natural resources of the coastal area by handling shells and examined small organisms under a microscope. Using a coastal enviroscape, an interactive model of a coastal city, including various points of pollution and its affect on the water resources, students investigated ways that water systems become polluted and brainstormed ways to protect coastal waters from pollution.
Despite the blustery weather, Junior Rangers took binoculars outside to view spring migratory birds such as cormorants, ospreys. Some Junior Rangers believed they caught a glimpse of an adult bald eagle that has been sighted hunting in the nearby marsh. Nature bingo proved to be a highlight for students along with a recycling relay, face painting and origami.
Part of the day also included the Junior Ranger Corner, allowing Junior Rangers to express on camera what their role in the National Park Service means to them and the importance of the Junior Ranger program.
"This event promotes positive, fun learning experiences," said Supervisory Park Ranger Geri Kobryn-Blatter who helped establish Junior Rangerpalooza last year. "[This program] introduces students to several aspects of the coastal ecosystem and the activities help kids achieve understanding of the role each of us plays in protecting parks for the future."
"I come to national parks because I like things you don't see every day," said Furio. When asked what was unusual about Gateway, he looked out the window at the geese and brant flying by. "Well, I don't see this much wide-open area," he said. "It's New York City. You don't usually see this much wide-open area."