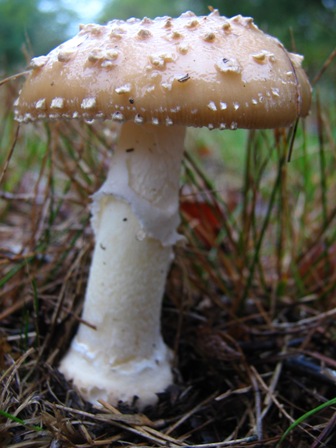 NPS PHOTO
Amanita Mushrooms
Amanita mushrooms are perhaps the most iconic of mushrooms. Unfortunately, amanitas are also responsible for the most fatalities from accidental mushroom poisoning. As a reminder, many mushrooms contain toxins that can be fatal or make you very sick if consumed. Do NOT eat mushrooms from the wild unless you are an expert.
The most famous amanita mushroom is the fly agaric (Amanita muscaria). With its wide red cap dotted with pale warts, the fly agaric appears in stories, movies, illustrations and even video games. To see it in the wild is something else. While the red-cap variety of the fly agaric is more common on the west coast of the United States, the yellow-orange fly agaric (Amanita muscaria var. formosa) is more common here.
Appearing in the late summer and fall, the fly agaric emerges from a distinctive cup. It is lined with concentric rings on the lower part of its stem. This can be difficult to see because this can lie beneath the soil or leaf litter, an example of how easy it is for an amateur to make a deadly mistake in identification. Most mushroom poisonings are due to ingesting mushrooms that are mistakenly identified as edible.
The poison champagne amanita (Amanita crenulata) looks similar to the fly agaric, but is smaller with a cream-colored cap. Also emerging from a cup in the ground, the poison champagne amanita lacks the concentric rings on its stem. As the common name implies, it is also toxic if ingested.