Public Involvement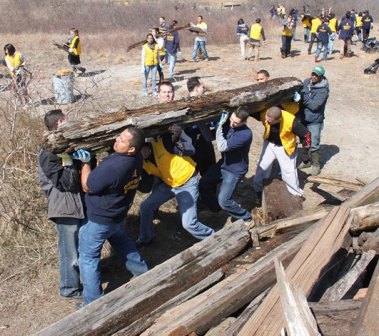 Photo by Don Riepe, American Littoral Society. Used by permission.
What can I do?
National parks belong to all Americans. That gives you a voice in both the day-to-day management and the longterm planning of Gateway, because this is your park. There are many ways to do something, say something or give something that will help Gateway become an even better park for years to come.
Do something!
One great way to get involved and to meet other people is to volunteer. Volunteers give their time and their labor to help parks meet the needs of the public. Gateway offers many ways to volunteer either inside or outside: single day projects such as clearing a salt marsh; staffing a visitor center front desk; scanning historic blueprints; repairing historic aircraft. Our Facebook page posts volunteer opportunities frequently.
Say something!
Have a good idea, a concern or an observation that you want to share with the park? We want to hear from you! You may contact the park via email, by phone at 718-354-4606 or by writing a letter to the Superintendent at: 210 New York Avenue, Staten Island, New York 10305.
Gateway is currently undergoing the revision of its General Management Plan (GMP), its first revision since 1979. This process takes years because the GMP will guide park decisions for decades. Public input is a necessary--and required--part of this process. Check our Park Planning page for when the next group of open houses or public meetings will take place. During public comment periods, you can also leave comments and ideas online.
The Fort Hancock 21st Century Advisory Committee has been formed to discuss ways to preserve 38 historic structures at Sandy Hook's Fort Hancock Historic District. The Committee will hold public meetings every few months, with a specified time for oral comments. Written comments may be directed to the Designated Federal Officer for the Committee, Superintendent Jennifer Nersesian, at 210 New York Avenue, Staten Island, New York 10305.
Give something!
If you want to contribute something more tangible, parks may accept donations of money or material items. Our fantastic Friends organizations support the park financially, so helping them is helping us as well.