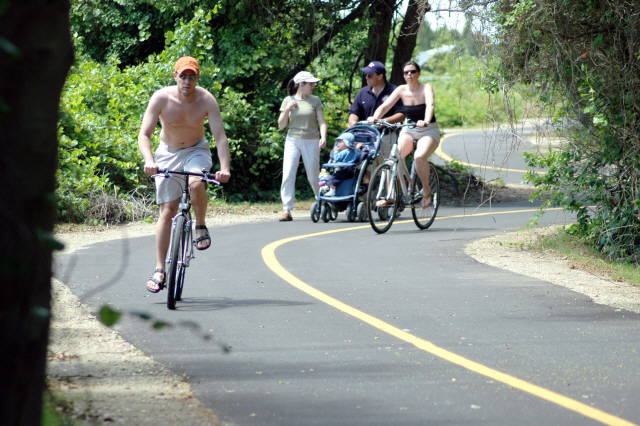 NPS PHOTO
Are there any changes to parking pass benefits?
No
What has fee money been used for in the past?
Literally hundreds of projects were funded in full or in part with fee money. Here are some of the projects:
Expanding the docking facility at Sandy Hook.
Rehabilitation of campgrounds at Floyd Bennett Field.
Shoreline monitoring at Sandy Hook.
Rehabilitation of the Ryan Visitor Center at Floyd Bennett Field.
Paving the Multi-Use Path at Sandy Hook.
Sand Slurry beach replenishment at Sandy Hook.
Fixing visitor railing at Jacob Riis Park.
Kayaking and sailing public programs.
Rehabilitation of Frank Charles Park in Queens.
Adding a webcam at the Sandy Hook
What would the increased revenue be used for?
The new revenue from the proposed increases will be used to provide enhanced visitor services including repair and maintenance of facilities, capital improvements, enhanced amenities, resource protection and additional visitor programs and services.
What will the additional campground fee revenues be used for?
The additional income from a rate increase for campgrounds would continue to be used to cover reservation services and operational costs. There has not been an increase to our campground rates since they were established in 2010.
Didn't you just get a lot of money because of Hurricane Sandy? What's happening with that?
Gateway received $165 million in Hurricane Sandy recovery funds. This money can only be used for Hurricane Sandy repairs. Revenue from proposed entrance fee increases can be used for much more than that, such as enhanced visitor services and amenities.
What is the difference in prices and benefits with other surrounding beaches and campgrounds?
Current prices are below comparable pricing for nearby beaches.
One example: Coney Island charges $15 per vehicle for parking.
In New Jersey, beaches charge per person, not per vehicle. The more people who visit in the same vehicle, the cheaper the cost.
There are only two other campgrounds that are less than 55 minutes from NYC. Liberty Harbor Marina & RV Park is $50 per night for tent camping, $80 for RV camping. There are no fire pits or open fires allowed. Cheesequake State Park has tent and RV sites for $25 per night, $20 for NJ residents, but it is not accessible by public transportation.
Can I still use my Senior Pass/ Access Pass/ America the Beautiful Pass?
Visitors with passes used for entrance fees for federal lands such as the Senior Pass, etc., will receive a 50% discount on parking fees, as they do now. There are no discounts for camping. (At parks with entrance fees, these federal passes give the holder free entrance. Remember that Gateway does not have entrance fees, only parking fees.)
What can I still do for free?
Plenty! At Sandy Hook, you can visit Fort Hancock, the Lighthouse, Guardian Park, Horseshoe Cove and fishing areas. Our interpretive programs, such as kayaking and sailing, are usually free. Entering the park is still free for those who walk or bike into the park.
I have some opinions about this! Who will listen to me?
Gateway wants to hear from you. You have the right under Federal law to make comment about a proposed fee increase. Please e-mail your comments us at Gateway_Fee_increase@nps.gov before January 20, 2015.. Gateway welcomes public comments and will consider all of them before making a final decision.