A Detailed History of Fort Hancock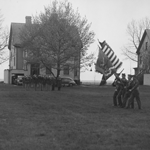 NPS/Gateway NRA Museum Collection
Since colonial days, ships entering New York Harbor used the Sandy Hook Channel just off the tip of the Hook. In 1764, the Sandy Hook Light was built to assist navigation.
Because of the strategic military importance of ships entering New York, the Sandy Hook Light was captured and used by the British. In June 1776, Lt. Col. Benjamin Tupper led his artillery to destroy the tower, "but found the walls so firm I could make no Impression." The British sent Loyalists to guard the Light for the remainder of the War.
During the War of 1812, a wooden fortification named Fort Gates was constructed in 1813, and represented the 2nd system of defense.
The Fort at Sandy Hook, begun in 1859 was a granite fortification that was never completed. This represented the 3rd system of defenses.
In 1890, the first of many concrete gun batteries of the Endicott era were built on Sandy Hook. In 1895, the U.S. Army established Fort Hancock to man the guns and protect New York Harbor from attack by sea.
Next were Taft Defenses that included changes to existing fortifications and the addition of 12-inch barbette guns.
Aircraft changed the style of warfare forever, and by the end of World War II anti-aircraft guns had taken over the key defensive role at Fort Hancock.
The Cold War era brought in new defenses. Anti-aircraft guns were replaced by Nike Missiles that could intercept jet warplanes. These surface-to-air missiles defended the skies from 1954 to 1974.
To Learn more about the community and buildings of Fort Hancock, click here.