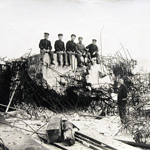 NPS/Gateway NRA Mueum Collection
The U.S. Ordnance Department established a temporary proving ground at Sandy Hook in 1874. The Federal Government already owned the land and it provided flat and open areas for testing. It was near large cities and transportation by water and rail routes were well established.
The Civil War introduced new weapons that were used for the first time in the history of war. Rifled canon fired pointed-nosed projectiles farther and faster than canonballs. Iron clad warships mounted guns that could easily destroy a traditional fort's walls. These new developments were adopted by many countries and made America's defenses obsolete. The United States's response was to develop new weapons and test them.
The "Proof Battery," located at the northeastern end of Sandy Hook had a 3,000 yard range extending southward. For longer range tests, the guns were fired out into the ocean. Tests were not only completed on new guns, but also on gun powder, artillery shells, fuses and primers.
In 1889, a narrow gauge railroad was constructed to bring equipment and guns from the docks to the proof battery. In 1893, a standard gauge railroad was completed to the mainland and connected with commercial railroad lines.
In 1895, Fort Hancock was established on Sandy Hook as a Coast Artillery Post. It along with forts throughout the nation and U.S. possessions received the guns test fired at the Proving Ground. The Proof Battery was relocated in 1900 because of Fort Hancock's need for the location to build a gun battery. The new Proof Battery was built southeast of its old location.
In 1903, the Sandy Hook Proving Ground became a permanent installation. It continued to test weapons through World War I. In 1919, the facility closed and the function was moved to Aberdeen, Maryland.
Want to learn more about the buildings of the Sandy Hook Proving Ground? Click here.
To view a site bulletin on the Sandy Hook Proving Ground, .