Staten Island Unit Ranger Guided Programs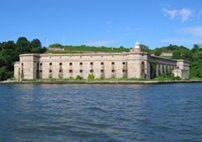 NPS Photo by John Harlan Warren
Sentinels of Our Shores: A program for grades 4-5
Note: This free program is available to school groups beginning on January 1, 2013. See below for information on how to reserve this program.
How did a young United States defend its greatest port, New York City? Sentinels of Our Shores takes upper elementary students back to the year 1846, when war clouds gathered over the US, Canada and Mexico.
First, student "cadets" conduct hands-on scientific experiments with our own unique air-powered cannon. How do changing variables, such as the angle or air pressure, affect the range of the cannon? Cadets then decide where to build forts by reading historic documents, including maps.
After this 90-minute program, have lunch in the "Learning Lunchroom" at the National Parks of New York Harbor Education Center, followed by a 30-minute visit to historic Battery Weed.
Maximum 35 students. To reserve this free program, call 718-338-3338 ext. 274 or email us.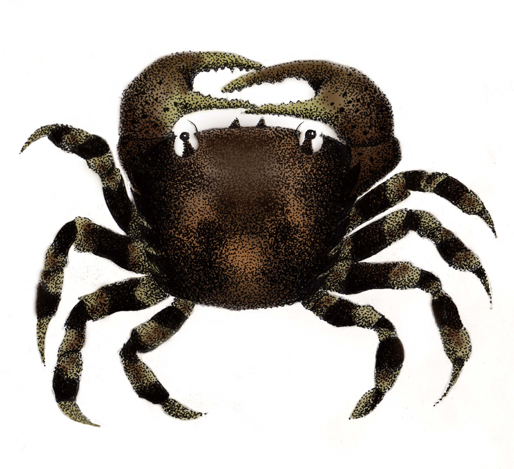 AGillustration.com. Used by permission.
Marine Invaders: A program for middle and high school students
Note: Due to Hurricane Sandy, this program is due to be available beginning May 1, 2013. For more information call Ranger Geri at 718-318-3338 ext. 274
Are Asian Shore Crabs Marine Invaders... or Marine Immigrants? Your students can help scientists figure this out by following scientific protocols and collecting data.
Asian Shore Crabs first appeared in U.S. waters around 1988, probably arriving in ballast water from ships that had arrived from Asia. These crabs can be found along the east coast of the U.S. from Massachusetts to North Carolina. Their numbers seem to be increasing, along with their range of habitat.
This program is free. For reservations or further inquiry, call 718-318-3338 ext. 274 or email us.
Crabs may look funny, but gathering data is serious business!
Working as "citizen scientists," students follow protocols designed by NPS scientists. At low tide, students will turn over three rocks per quadrat. Our Reference Guide helps students identify all marine life found, not just crabs. Each Asian Shore Crabs is examined to determine size and gender. The data gathered by students will be turned over to professional marine biologists, both in the NPS and at higher learning institutions.
NOTE: To gather data that scientists will find useful, students must follow the scientific protocol precisely and consistently. This program requires that teachers and chaperons work closely with students to make sure they follow protocol and record their data right away. (For example, you can only document crabs found inside your quadrat and can only turn over three rocks.) That's why we made a six-minute introductory video for Marine Invaders. (To view this video requires downloading Quicktime.)