Jamaica Bay Unit Programs and Teacher Workshops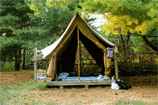 Group Camping in New York City.
Have a youth group? Thinking about camping in New York City this summer?
Ecology Village: Camping in Brooklyn for school age children and their teachers
Be part of a thirty-year tradition of camping under the pines, conducting water testing and seining for fish, and being part of the recycling and composting challenge.
Curriculum-based camping offered for grades 4 thru 12. For teachers who have attended the New Leader Training Course, school camping is available in May 1, 2013 to June 20, 2013 and September - October 2013 for a $50 fee. Dates are available Monday - Thursday.
New to camping at Ecology Village? New teachers must first attend the FREE New Leader Training Course to be held on September 20-22, 2013.
Call Ranger Geri Kobryn-Blatter 718-338-3338 ext. 274 to register for New Leader Training or the Camping Refresher
Marine Invaders: Grabbing Asian Shore Crabs the scientific way
Citizen scientists in grades 8 and high school sample shorelines at Fort Wadsworth on Staten Island and various locations around Jamaica Bay for invasive crab species. Students use real scientific collecting methods to grab invasive Asian Shore crabs from under rocks. Important data gets collected and is shared with park managers and scientists researching the impact of invasive species on the natural environment. Linked to eighth and living environment curriculum. This program will be offered starting May 1st, contingent upon completion of Sandy recovery efforts.
Towering trees and bursting buds: a new program all about trees for Kindergarten through 2nd grade
Linked closely to the Kindergarten, first and second science scope and sequence, students learn about what native trees and bushes do in each season of the year. Students make predictions about what's up with their tree in each season and test out their predictions about seasonal change in the field. Later students can input their data at the National Phenology Network and contribute to important scientific knowledge about climate change. This program will be offered starting May 1st, contingent upon completion of Sandy recovery efforts.
Bird Migration and Climate Change in Jamaica Bay: a new bird discovery program at the Jamaica Bay Wildlife Refuge
Teachers report that urban students in middle and high school begin to care about birds like they never have before after completing this program. Students create bird identification cards prior to their visit of birds commonly found during the season of their visit. At the Wildlife Refuge, students and chaperone's go on a bird safari for their birds, observing bird behavior and habitat. Back in the classroom students contribute to important scientific research by contributing to the Cornell University bird sighting web page. This program is closely linked to the scope and sequence in middle school and with the high school living environments course.
Habitats by Land and Sea: explore the shore and be part of a thirty year education tradition for grades 4-8
Discover what grows near the seashore, and how plants are especially adapted to thrive in the harsh conditions near the water's edge at Dead Horse Bay. This program was once part of the NYC BOE's Operation Explore program comparing habitat near the seashore and at forest and farms upstate. The program seashore portion of this longstanding program is now available to a wider New York audience, open to those participating in the traditional Operation Explore program and to groups wishing just to do the seashore portion of the program. This program will be offered starting May 1st, contingent upon completion of Sandy recovery efforts.