Gateway BioBlitz Events
Biodiversity, the variety and variability among living organisms and the ecological complexes in which they occur, is essential to the health and success of an ecosystem; the greater the diversity of the organisms, the greater the health of the area in which they are found. One creative way to evaluate biodiversity is through a BioBlitz, or a 24-hour rapid assessment of what lives in a particular area at a given time.
These events are an extremely useful tool in:
- generating a species list, a first step in successful resource management
- increasing the public's awareness of the variety of life in their immediate neighborhood and the services these various species provide to improve the equality of their lives
- creating an environment that will foster the scientist in both adults and kids alike
---
---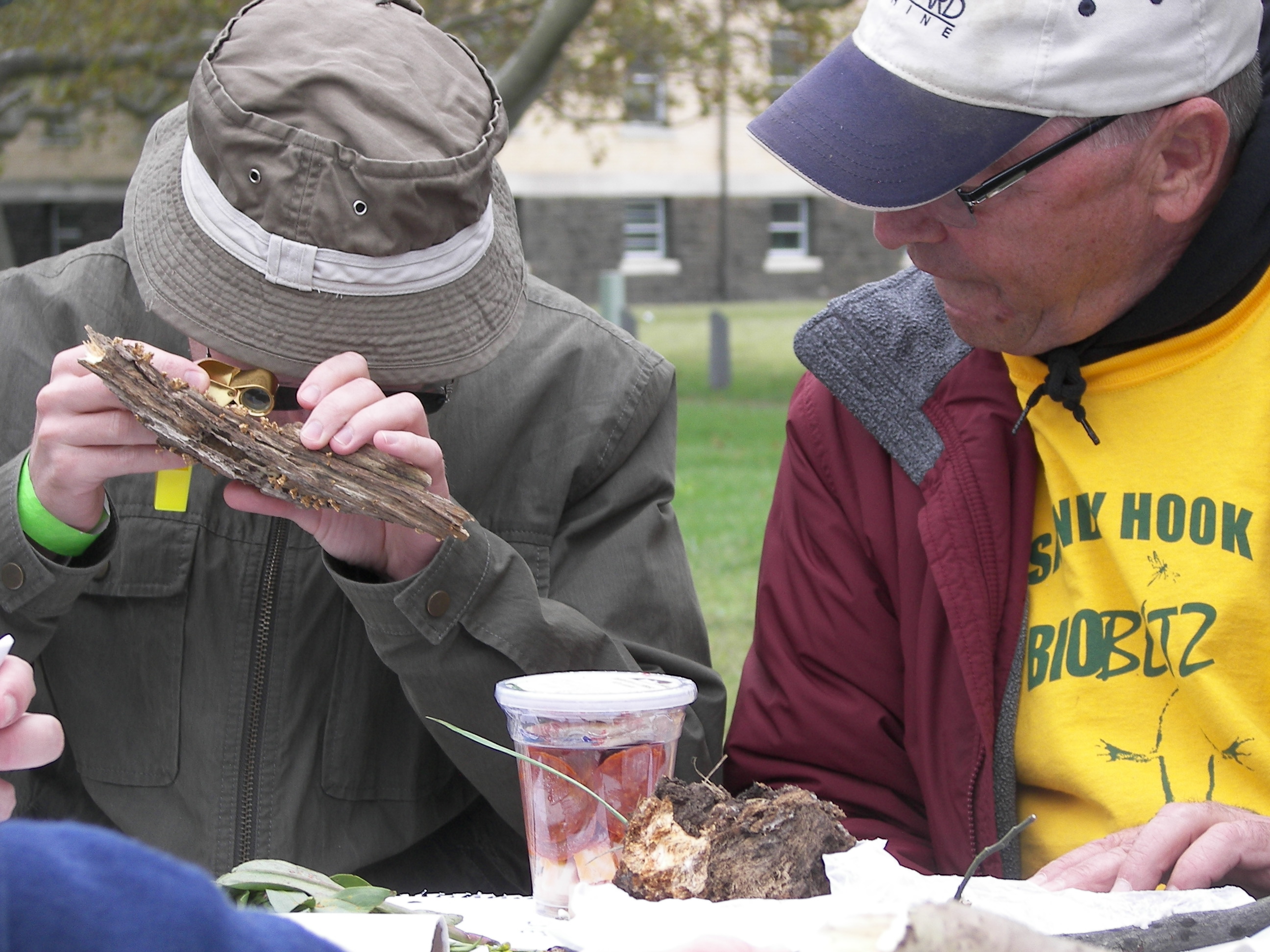 NPS Photo
Nearly 150 volunteers and students accompanied experts into the field for 24-hours on September 16th and 17th. Their goal was to check as many species off their lists as possible during the Sandy Hook BioBlitz, a partnership between the National Park Service and the American Littoral Society. Base Camp was abuzz with scientists and future scientists hovered over microscopes and flipping through books to identify the species that could not be identified in the field. A tentative count revealed a total of 457 species for the first BioBlitz to occur in the Sandy Hook Unit of Gateway National Recreation Area. Participants identified species right up to the 24-hour cut-off and data sheets are still being entered. Expect the number to increase as more species will be added to the list.
Interesting finds resulting from the passing of Hurricane Irene included seeds and nuts from plants not found in the area. Due to the recent flooding from New Jersey rivers, horned fruits from water caltrop, an invasive aquatic plant from lakes in the New Jersey Highlands, washed out to the ocean and were found along the Sandy Hook shore. The recently arrived invasive species Chinese bush-clover was collected from one of the parking lots and the salt marshes provided many salt-tolerant and fleshy-stemmed species only known from this unique environment. A Permit fish, common to tropical waters, was also among the species that is a suspected result of recent storm activity.
Many other species such as the Stick Insect, a variety of crust fungi and a small herd of White-tailed deer photographed by a motion detecting camera captured the interest of the participants. Few herpetological species (reptiles and amphibians) were observed due to the lower fall temperatures that arrived earlier in the week.
The tentative species count is below. Please check back for updates on the final tally and a detailed species list.
| | |
| --- | --- |
| General Categories | Total Species Count |
| Birds | 104 |
| Bryophytes | 22 |
| Fish | 21 |
| Herps | 1 |
| Mammals | 10 |
| Plants (terrestrial) | 162 |
| Plants (aquatic) | 10 |
| Invertebrates (terrestrial) | 107 |
| Invertebrates (aquatic) | 20 |
| Total | 457 |
A
Flickr account
has been created for participants to upload and share photos. For additional information, please visit the
CIESIN webpage
.
---
2010 All Taxa BioBlitz at Floyd Bennett Field-
June 11th & 12th, 2010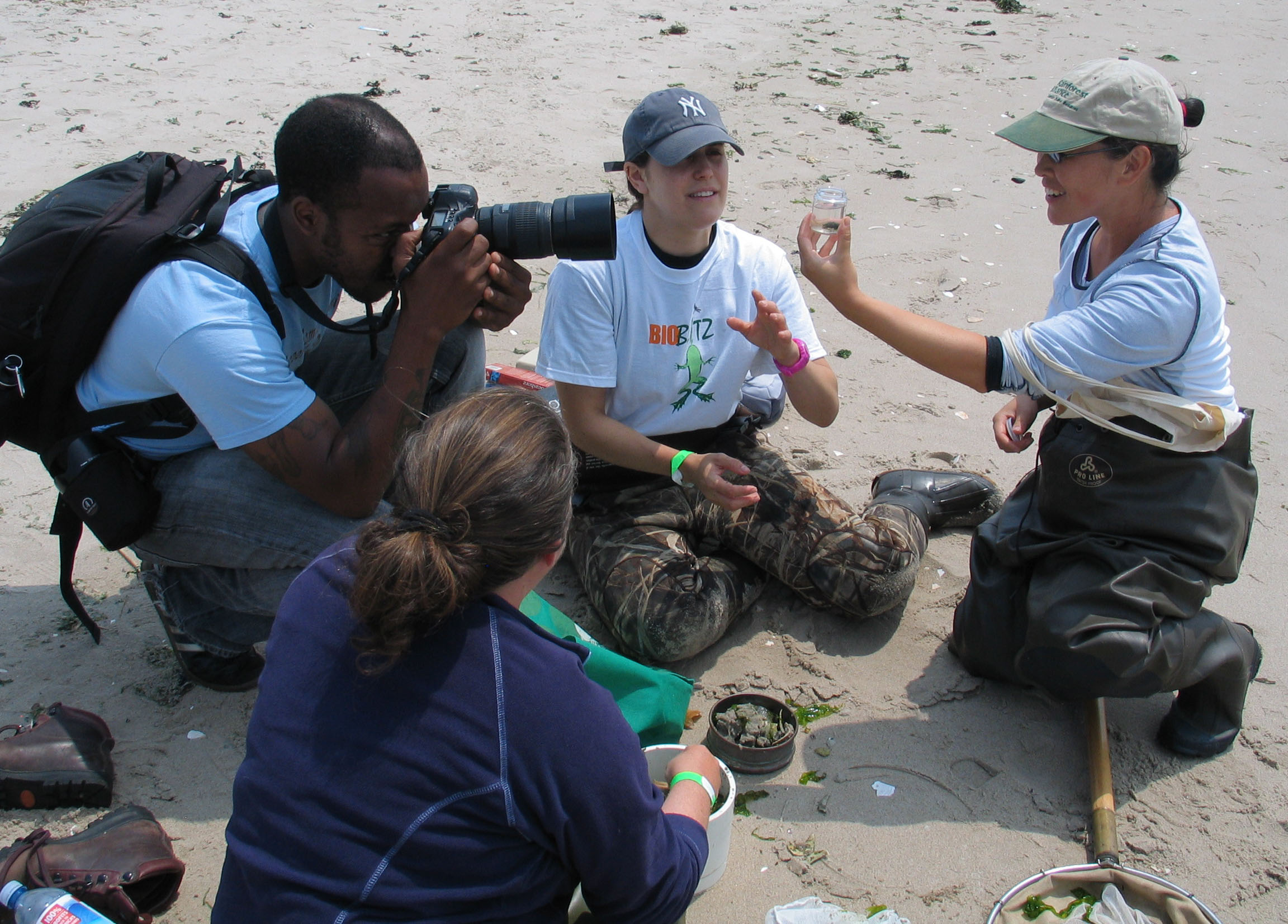 NPS photo
For 24 hours, Friday, June 12 to Saturday, June 13, volunteers explored the wilds of Floyd Bennett Field, Plumb Beach and Dead Horse Bay at Gateway National Recreation Area to document living species for the 2010 Jamaica Bay BioBlitz in New York City. The National Park Service (NPS) partnered with Brooklyn College, City University of New York, to bring families, volunteers and naturalists together for this event. Led by expert scientists and naturalists, volunteers identified 484 species of plants, invertebrates, birds, mammals, reptiles, amphibians, and other wildlife for the Jamaica Bay BioBlitz 2010.
For more details please visit the Jamaica Bay Research and Management Information Network.
View the species discovery locations and BioBlitz zones mapped on Google Earth to relive the action!
General Taxa Categories

Total Species Count

Google Earth is a virtual globe program that maps the earth by the superimposition of images obtained from satellite imagery, aerial photography and GIS 3D globe. The viewer is available for free download at Google Earth. The product is designed for use on newer computers with broadband or higher levels of connection.

Please Note:As you close Google Earth, the program will ask you if you wish to save these items in My Places. To ensure that you continue to view the most current data, select "Discard".

References to non-U.S.. Department of the Interior (DOI) products do not constitute an endorsement by DOI.

Birds

53

Fish

16

Fungi

4

Herps

6

Mammals

9

Plants (terrestrial)

165

Plants (aquatic)

34

Inverts (terrestrial)

121

Inverts (aquatic)

76

Total

484
---
2007 All Taxa BioBlitz-
September 7th & 8th, 2007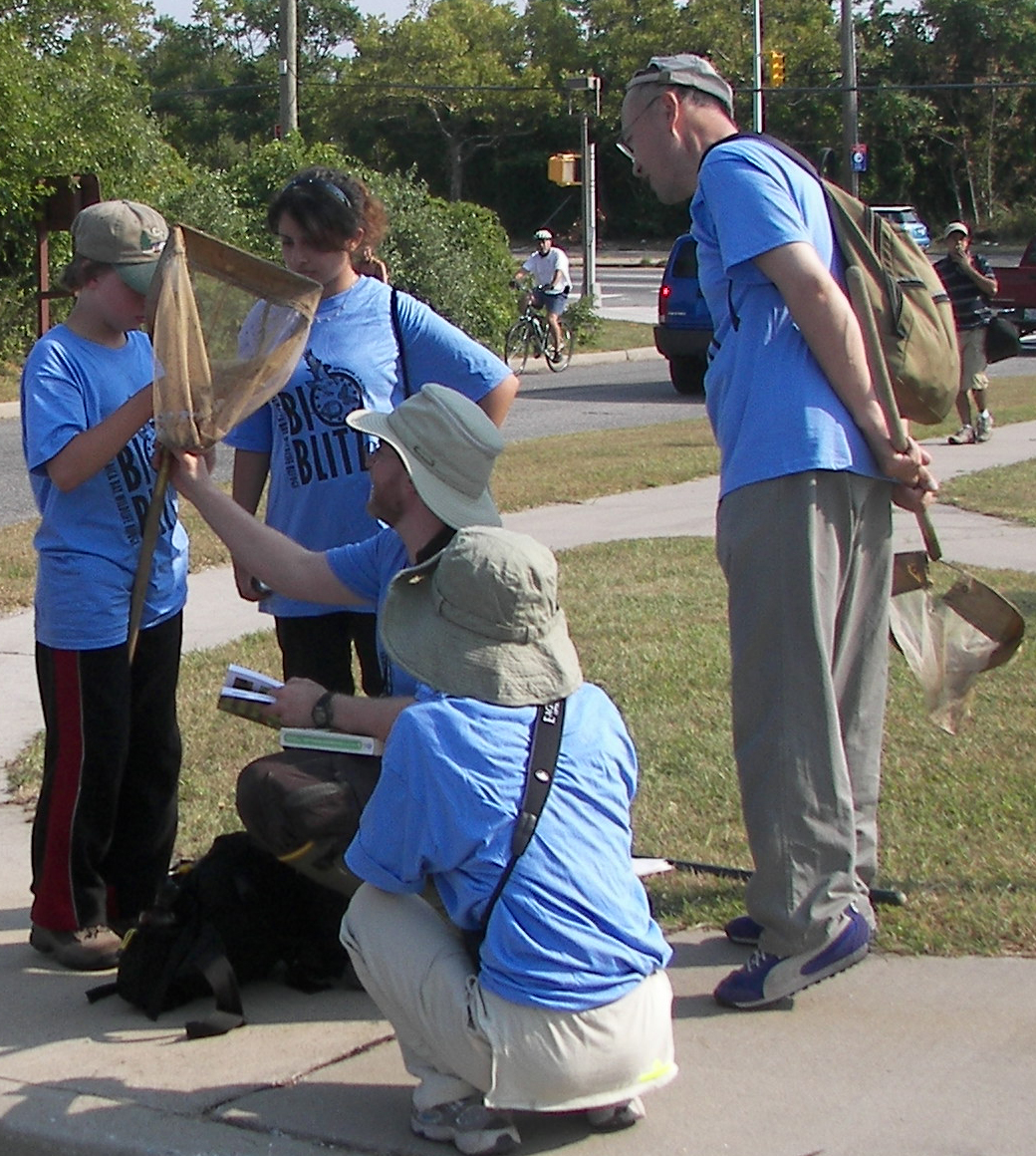 NPS Photo
The first-ever Jamaica Bay BioBlitz, organized as a partnership between the Jamaica Bay Institute and Queens College (CUNY), succeeded in highlighting the natural resources of Jamaica Bay by bringing together over 270 community volunteers and scientific experts to create a snapshot of the biodiversity found in and around the bay. Throughout the event, field teams departed from the base-camp at the Jamaica Bay Wildlife Refuge to explore the less studied areas of the park such as Fort Tilden and Floyd Bennett Field in order to identify as many organisms as possible and expand the already extensive list of species known to exist in the park. Educational activities such as ranger-led walks, interactive displays, creative workshops, and research laboratory stations allowed participants to get an up-close look at some of the 650 species that were documented during the event which provided an opportunity for the public to contribute to a scientific inventory while learning about the natural history of species found in the area.
(Adobe .pdf file is large and may take a moment to load).
General Taxa Categories
Total Species Count
Total Species Count per District of the Jamaica Bay Unit
FBF
FT
JBWR
Birds
116
41
60
88
Fish
16
8
9
6
Bryophytes
26
2

26
Herps
8

2
7
Mammals
7
1
5
5
Plants (terrestrial)
123

123
Plants (aquatic)
31

31
Inverts (terrestrial)
66

66
Inverts (aquatic)
257
87
35
164
Totals
650
139
111
516

For a complete list of species please click here
Did You Know?

Journalist Jacob Riis was called "New York's most useful citizen," by Theodore Roosevelt. Riis often accompanied Police Commissioner Roosevelt in raids exposing the hardship of life for New York City's poor and immigrant populations and published his photos in newspapers. More...