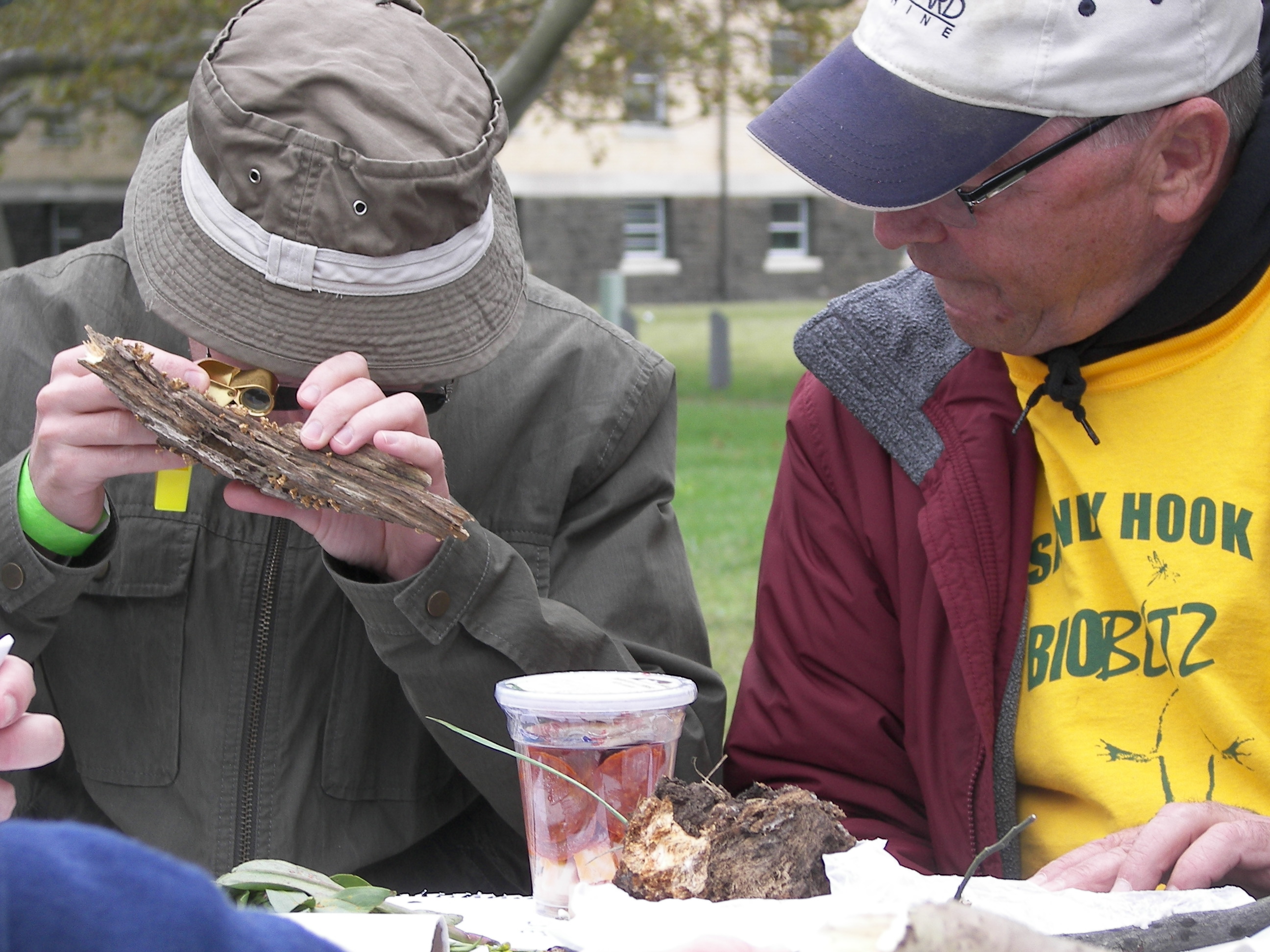 NPS Photo
Nearly 150 volunteers and students accompanied experts into the field for 24-hours on September 16th and 17th. Their goal was to check as many species off their lists as possible during the Sandy Hook BioBlitz, a partnership between the National Park Service and the American Littoral Society. Base Camp was abuzz with scientists and future scientists hovered over microscopes and flipping through books to identify the species that could not be identified in the field. A tentative count revealed a total of 457 species for the first BioBlitz to occur in the Sandy Hook Unit of Gateway National Recreation Area. Participants identified species right up to the 24-hour cut-off and data sheets are still being entered. Expect the number to increase as more species will be added to the list.
Interesting finds resulting from the passing of Hurricane Irene included seeds and nuts from plants not found in the area. Due to the recent flooding from New Jersey rivers, horned fruits from water caltrop, an invasive aquatic plant from lakes in the New Jersey Highlands, washed out to the ocean and were found along the Sandy Hook shore. The recently arrived invasive species Chinese bush-clover was collected from one of the parking lots and the salt marshes provided many salt-tolerant and fleshy-stemmed species only known from this unique environment. A Permit fish, common to tropical waters, was also among the species that is a suspected result of recent storm activity.
Many other species such as the Stick Insect, a variety of crust fungi and a small herd of White-tailed deer photographed by a motion detecting camera captured the interest of the participants. Few herpetological species (reptiles and amphibians) were observed due to the lower fall temperatures that arrived earlier in the week.
The tentative species count is below. Please check back for updates on the final tally and a detailed species list.
| | |
| --- | --- |
| General Categories | Total Species Count |
| Birds | 104 |
| Bryophytes | 22 |
| Fish | 21 |
| Herps | 1 |
| Mammals | 10 |
| Plants (terrestrial) | 162 |
| Plants (aquatic) | 10 |
| Invertebrates (terrestrial) | 107 |
| Invertebrates (aquatic) | 20 |
| Total | 457 |
A
Flickr account
has been created for participants to upload and share photos. For additional information, please visit the
CIESIN webpage
.