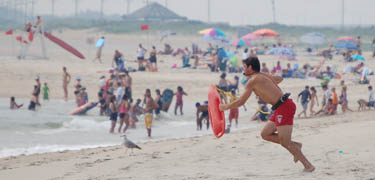 Photo by John Vaage. Used by permission.
Pre-employment tests for surf-lifeguards began Dec. 26, 2014
Gateway's three units --- Sandy Hook, Staten Island and Jamaica Bay --- regularly hire lifeguards for the summer season. The pre-employment tests for surf-lifeguards will begin December 26, 2014 at Elizabeth High School in New Jersey.
Check out things you need to know about the tests.
There are still some test dates remaining in 2015
Sunday, April 12, 2015 - Monmouth University, NJ 2:15 p.m.
Saturday, April 18, 2015- St. Joseph's College- Patchogue, NY 3:00 p.m.
Sunday, May 3, 2015 - Elizabeth HS - NJ 7:00 a.m.