For Kids
Gateway National Recreation Area is a great place for the whole family all year long. The National Park Service offers many programs throughout the year for kids to learn about the nature and history that's right here in their own backyard, or to bring out their creativity. They can even earn their Junior Ranger badges! Get the whole family together, and visit the Gateway site nearest you, or make a day trip to visit the other sites. Whatever you do, kids of all ages will enjoy discovering the treasures found in our local national park!
NPS
Junior Ranger in Jamaica Bay
Visit the Jamaica Bay Wildlife Refuge or the Ryan Visitor Center and
ask a Ranger for your very own Junior Ranger Book. It is great for girls and boys who want to Explore, Learn and Protect our National Parks. Complete the activities and earn a Junior Ranger Badge. The book is designed for ages 7-12.
Become a WebRanger!
The National Park Service has a great Junior Ranger program for kids of all ages on line. You can play more than 50 games and learn about your National Parks. If you love your National Parks, Monuments and Historic Sites than this web page is for you www.nps.gov/webrangers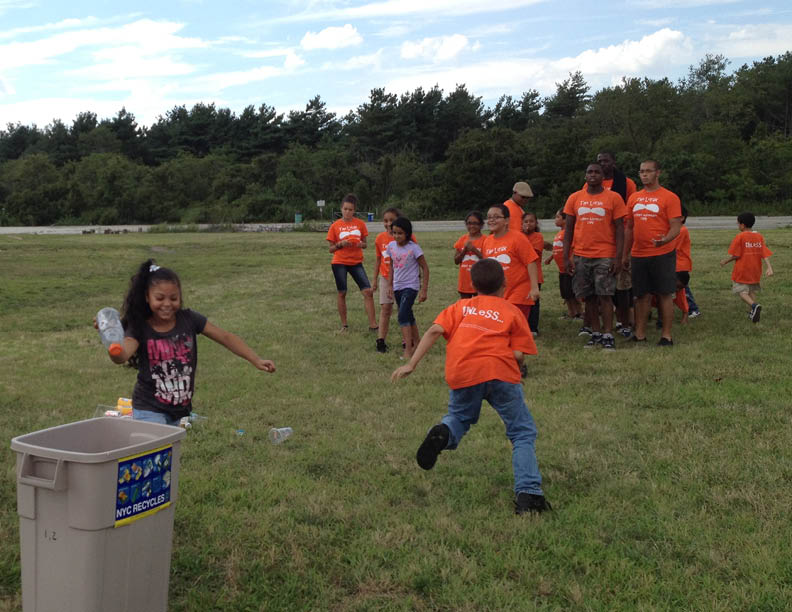 Photo credit Federica Corinto
Ecolife Summer Programs
EcoLife is a set of four summer programs for the community that teaches youth about sustainability in the park. Students will learn the concept of sustainability through hands on activities. EcoLife provides kids with the tools that they can use to fulfill a greener lifestyle and to give back to their neighborhood.
Click here for more info!
ECOlife Summer 2014 Programs

EcoLife is a summer day camp program held at Ecology Village on Floyd Bennett Field for local community groups. Students learn the concepts of sustainability through hands on activities. Check back in April 2014 for updates about our summer program. Read More

Video: Junior Rangerpalooza 2011

See and hear what Junior Rangers say like to do at national parks. Read More

Water safety is fun!

Kids: Do you know how to stay safe while having fun at Gateway's beaches? Test yourself! Read More
Did You Know?

Did you know that many celebrities visited Fort Hancock in World War II? Judy Garland performed for the soldiers at Fort Hancock in 1943. Lana Turner also visited the fort during the war. More...