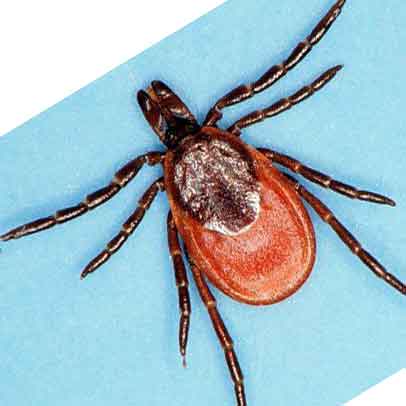 Ticks

Ticks are blood-feeding parasites that are often found in tall grass and shrubs where they will wait to attach to a passing host. Physical contact is the only method of transportation for ticks. Ticks do not jump or fly, although they may drop from their perch and fall onto a host. Ticks will try to climb to the highest part of their host.
Habitat:
Ticks can be found in most wooded or tall grass land regions throughout the world. They are especially common in areas where deer are plentiful.
Commons ticks here:
• Dermacentor- commonly known as the Dog Tick
This tick can carry Rocky Mountain Spotted Fever
• Ixodes - Know as the Deer Tick
This tick can spread Lyme Disease
Description:
• Unfed males and females are reddish-brown and can be 3/16-inch long or smaller. They have hard shells, starting right behind the mouth.
Prevention:
• Wear protective clothing such as long-sleeved shirts, long trousers, boots or sturdy shoes. Ticks are easier to detect on light-colored clothing.
• Apply insect repellent containing 10 to 30 percent DEET primarily to clothes. Apply sparingly to exposed skin. Always follow label instructions on how to apply.
• Walk in the center of trails so weeds do not brush against you. Individuals who sit on the ground or disturb leaf litter on the forest floor may encounter ticks.
• Check yourself, children and other family members every two to three hours for ticks. Most ticks seldom attach quickly and rarely transmit disease organisms until they have been attached for four or more hours. If your pets spend time outdoors, check them for ticks.
• Take a shower immediately after coming in from being in the outdoors.
Removal of tick:
• If tick is on clothing use masking or duck tape to remove.
• The best way to remove a tick is to grasp it firmly with tweezers as close to the skin as possible and gently, but firmly, pull it straight out.
• Do not remove the tick with bare hands.
• To dispose of the tick, flush it down toilet.
• Wash the area around the bite thoroughly with soap and water, then apply antiseptic to the bite.
• If you have an unexplained illness with fever, contact a physician. Be sure to tell the physician if you have been outdoors in areas where ticks were present.
For further information: