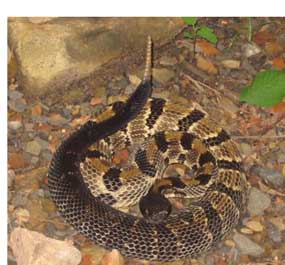 Timber Rattlesnake:
Description:
• A rattle at the end of its tail.
• Bright yellow to dull gray in color.
• Brown or black chevron shaped markings along its back.
• Can grow up to 6 ft in length.
Habitat:
• Found in wooded, rocky, mountainous regions.
Characteristics:
• Active from late April to mid October.
• Will seldom bite unless disturbed.
How to avoid being bitten:
• Stick to designated walking and biking trails.
• Do not place your hands or feet where you can't see.
• Keep all pets on a leash.
• If you see a snake, do not provoke it or try to pick it up, just avoid it.
First Aid for a Snake Bite:
• Get away from the snake. Rattlesnakes and copperheads can strike at a distance equal to about half their body length and can bite more than once. Do not attempt to kill or capture the snake.
• Stay calm; don't panic.
• Look for signs of envenomation: severe burning pain at the site of the bite, swelling beginning within about five minutes of getting bit and progressing up the limb, discoloration and blood-filled blisters developing in 6 to 48 hours. In at least 25% of bites, no venom is injected.
• If there are immediate symptoms, get help immediately.
• Send someone for help; Call 911
• Try to keep the affected limb lowered below the victims heart
• Keep the victim as quiet and calm as possible; activity can increase venom absorption.
• Seek medical help even if there is no immediate reaction. All bites can cause infection and should be treated by a physician.