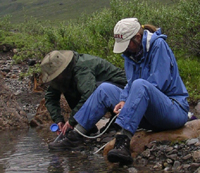 NPS Photo Teri McMillan
Even in this remote park some rivers and lakes contain Giardia lamblia, or other intestinal parasites.
For your safety it is recommended that you drink only boiled, filtered or chemically treated water.
To protect the water quality, bathe and wash dishes at least 100 feet from sources of drinking water and use biodegradable soaps.
Go at least 200 yards from the water to use the restroom.