Food Storage Requirements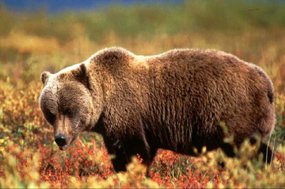 Allowing a bear to obtain human food or garbage, even once, will cause it to seek out more human food. Eventually, if the bear becomes a threat to human safety, it may be killed. For this reason, it is against the law to feed bears in Gates of the Arctic, either on purpose or by carelessly leaving food or garbage where bears can get to it.
All Alaska National Parks and Preserves require that food and garbage be stored by an approved means. Because in most areas of Gates of the Arctic Park and Preserve there are no trees appropriate for hanging food, Bear Resistant Food Containers are the best and easiest way to meet the requirement for overnight visitors in the Park.