Setting Up Camp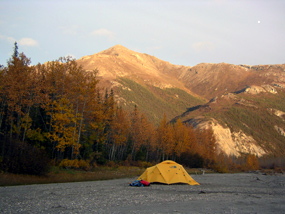 NPS photo
Select a durable surface for your campsite. Gravel bars work well, but be sure to camp above water level in case the river rises. When camping on the tundra, select a site that is not too dry and that will not be heavily impacted. Bring what you need. Do not trench for tents or cut branches for beds. Use lighter soled camp shoes to lessen your impact.
When you set up your campsite, keep in mind that you are in bear country. Locate your cooking/eating area 100 yards away from the sleeping area. Stash all your food, trash, petroleum and other odorous items (toothpaste, lotions, etc.) in a separate area.
Before you leave, make every effort to return your campsite to a natural appearance.


Did You Know?
Gates of the Arctic National Park and Preserve is the central component of the 700 square mile protected Brooks Range. Arctic National Wildlife Refuge is to the east, and the Noatak Preserve is to the west.