Birding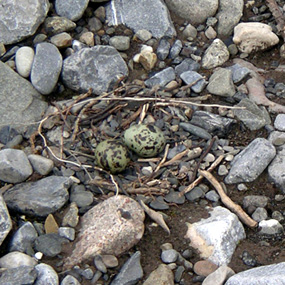 NPS Photograph Teri McMillan
Because of its endless summer sunlight, Gates of the Arctic National Park and Preserve is the summer destination of many migratory birds. In addition, there are a number of year-round residents such as the ptarmigan. A total of 145 species of birds have been observed in the Park and Preserve over the past 30 years. Aquatic birds, raptors, song birds, and many others can be seen and heard. Bird watching is a common activity for hikers and boaters in the Park. Others will find opportunities for bird-watching in Bettles, Anaktuvuk Pass and Coldfoot, as well as all along the Dalton Highway.
Birding Tips:
Nearly half of the birds recorded in Gates of the Arctic live and nest in aquatic habitats.
Like many animals, birds are often more active in the morning and evening. Because the sun never sets in the summertime, the earlier you start or the later you stay up, the more success you will have.
Free information about birding in Alaska and books for sale are available through the Fairbanks Alaska Public Lands Information Center.
Table of common birds found in Gates of the Arctic
Bird List for Gates of the Arctic, compiled in 2000 (pdf file)


Did You Know?
Chert is a fine-grained rock used by the prehistoric inhabitants of the Brooks Range to create tools like scrapers, knives and spear points. The Brooks Range contains one of the richest deposits of "tool quality" chert in the world.