Backpacking and Hiking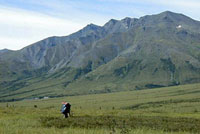 NPS Photo
Traveling on foot affords more opportunity for exploration and discovery. Hiking on ridges and overpasses reveals splendid vistas, while the slower pace allows for a closer inspection of blooming tundra or wooly caterpillars. Backpacking can take you to the most remote and least traveled areas of the Park and Preserve and day hiking expands the river trip experience.
Hiking tips:
Because there are no established trails, you must plan your route and use a map and compass, and / or GPS to navigate your way.
Expect to move at a slower pace in the arctic. The dense vegetation, tussocks, boggy ground and frequent stream and river crossings significantly slow your progress.
When planning your route keep in mind that a good day of backpacking in the Brooks Range may often be no more than 5-8 miles.
Adjustable ski poles or hiking poles are very useful.
You will find easiest walking above the tree line or in the streambeds, if the water level is low.
When hiking, minimize damage to vegetation by limiting your group size to seven people maximum traveling in one direction/route.
Seek out durable surfaces or game trails for hiking. Where no game trails exist, walk in a fan formation, rather than a straight line.
Did You Know?
Chert is a fine-grained rock used by the prehistoric inhabitants of the Brooks Range to create tools like scrapers, knives and spear points. The Brooks Range contains one of the richest deposits of "tool quality" chert in the world.