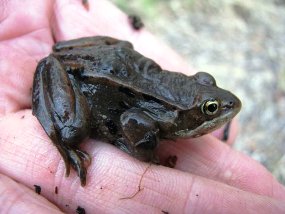 Richard Nelson
Yet wood frogs have evolved ways to freeze solid for up to eight months each year. They've accomplished what would seem to be a biological miracle. How do they pull this off?
At the beginning of winter, ice quickly fills the wood frog's abdominal cavity and encases the internal organs. Ice crystals form between layers of skin and muscle. The eyes turn white because the lens freezes.
At the same time, the wood frog's liver produces large amounts of glucose that flushes into every cell in its body. This syrupy sugar solution prevents the cells from freezing and binds the water molecules inside the cells to prevent dehydration.
So on the one hand, the wood frog's body allows ice to form around the outsides of cells and organs; and on the other hand, it prevents ice from forming inside the cells--thus avoiding the lethal damage suffered by most animals when they freeze.
What does a hibernating wood frog look like? There is no muscle movement. No heartbeat. No breathing. For the entire winter, the wood frog is like a lump of hard, frigid, icy stone carved in the shape of a frog. But it's alive, in a state of suspended animation.
In spring, the wood frog thaws from the inside outward. First the heart starts beating. Then the brain activates. Finally, the legs move.
Nobody yet understands what starts the wood frog's heart after being frozen and inert for the entire northern winter. Once the frog is fully thawed, it heads off through the woods to find a breeding pond or other suitable water.
The wood frog is completely undamaged by conditions that would be fatal to nearly all other animals.