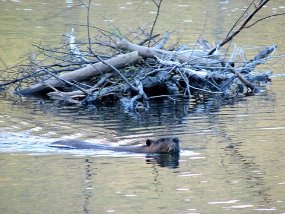 Richard Nelson
Demand for Pelts and Oil
The pelts were sent to Europe and used to make beaver felt hats—these were hugely popular during the 1700's and 1800's. Throughout North America, tens of millions of beaver were taken, mostly using steel leg-hold traps developed in Europe in the 1600's.
The oil from a gland at the base of the beaver's tail was another product in demand. Called castoreum, this oil was mainly used as a base for perfume. It was also valued for medicine, and research has shown that the oil contains salicylic acid derived from the beaver's willow diet—this is the principal ingredient in modern aspirin.
Because of intensive, unregulated trapping and hunting, beavers had become rare or had completely vanished in much of North America by 1850. Luckily, beaver hats went out of fashion, trapping pressure declined, and beaver populations began a long process of recovery.
Still today, we can see evidence of the beaver's historic importance in the names of places and towns across the North American continent: Some examples include Beaver Dam, Wisconsin; Beaver Crossing, Nebraska; Beaver Creek, Wyoming; Beaverton, New Brunswick; Beaver County, Utah; and Beaver Park, Iowa.
Beaver is the state animal of Oregon and most importantly, it is the national animal of Canada—commemorating the beaver's crucial role in Canadian history. The image of a beaver is engraved on every Canadian nickel coin. The beaver is also part of the Provincial coat of arms of both Alberta and Saskatchewan. More than 1000 place names across Canada contain the word "beaver".
Beavers are also abundantly represented on the modern map of Alaska, which shows at least 17 Beaver Lakes and 27 Beaver Creeks, as well as Beavertail Island, Beaverhouse Hill, Beaver Trail Lake, and the village of Beaver situated on the Yukon River north of Fairbanks.