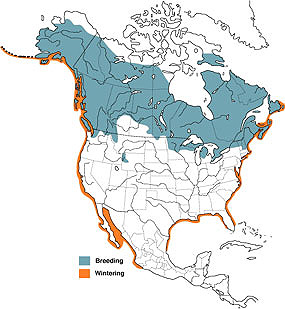 from Birds of North America online, Cornell University
A pair of loons admired by watchers on the California coast may in fact spend their summers raising young on a lake in Gates of the Arctic National Park.
Fossils reveal that loons have been on earth about 70 million years, making them one of the most ancient bird families. Mammoths, mastodons, and saber toothed tigers heard the loon's voice ringing out over ice age Alaska.
Koyukon Indian people who live in the remote boreal forest country of northern Alaska have shared their world with dodzina—the common loon—for countless thousands of years; they know the loon intimately, not only as a physical presence but also as a powerful spiritual being.