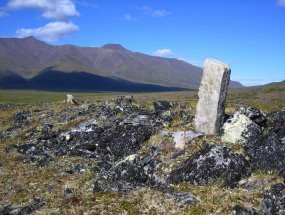 NPS photo by Jeff Rasic
Throughout the history of Nunamiut Eskimos living in the Brooks Range, success in caribou hunting was critical to survival. People frequently moved their encampments to follow the caribou and intercept their migrations. When caribou were plentiful, there was meat and fat in abundance, hides for clothing and shelter, sinew for thread, and rawhide for lashing. But when caribou were scarce, the inland Eskimos could face hardship, hunger, and even starvation.
Over the passage of many generations, Nunamiut people closely observed the migratory patterns of caribou and learned every detail of the landscape. They understood how local topography channels the long skeins of caribou coming from the north in fall or the south in spring. And they came to know caribou so well that they could enter the animals' minds, predicting where they would go and how they would react in a wide range of circumstances.
Hunters learned that the movement of caribou could be influenced by something tall, erect, and human-like on the open tundra. Using this knowledge, they made stone people (iñuksuk), by standing elongated stones on end or by piling up rocks and topping them with willow branches and bits of cloth that fluttered in the wind. Nunamiut Eskimos arranged these scarecrow figures in two gradually converging rows, sometimes up to five miles long. When a herd of caribou approached, the iñuksuit (plural for iñuksuk) helped to funnel them into a lake, a river, or a corral where they could more easily be killed.