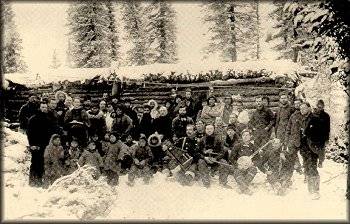 Photo from the Grinnell Collection, courtesy of the Bancroft Library, U.C. Berkeley
Winter on the River
The most determined men took prospecting trips upriver and to neighboring streams early in the winter. They generally returned empty-handed. Most of the prospectors did not venture far from their winter camps. Though many of the prospectors were able to successfully brave the winter, others did not fair as well. Some lost their outfits in the river; others became ill with scurvy or drowned.
Gold at Last
As winter wore on, most of the 800 miners and adventurers on the Kobuk made definite plans to leave the valley and sail south in the spring. By then, they had heard about the strike at Anvil Mountain, near what would eventually become the city of Nome. However, competition for good diggings was fierce and many lost their shares to claim jumpers as gold hunters from the Klondike and elsewhere crowded the creeks outside Nome. Some were able to work the sands on the beaches. As more prospectors entered the Seward Peninsula country, claims spread north, away from the coast. By 1901, small amounts of gold had been found on tributaries of the Inmachuk River and Candle Creek, in the area of what is now Bering Land Bridge National Preserve.
Several years later, small amounts of gold were found on several tributaries of the Kobuk. Minor mining districts developed in the Cosmos Hills and Squirrel River areas near Kotzebue. After most miners had left for the south, a few stayed in the Cosmos Hills area working small placer mines. By 1910, numerous claims had been staked along Klery Creek and several other tributaries of the Squirrel though very little work was in progress.
"The Flying Dutchman"
During the winter months in the Kobuk region, focus shifted from prospecting to recreational pursuits. Several of the camps organized lectures and discussion groups. Zoologist Joseph Grinnell, author of the best known account of the Kobuk stampede, Gold Hunting in Alaska, used his time to study and collect birds. Ice skating was a popular early winter recreational activity for the Kobuk valley prospectors. Most of the camps had a least one pair of skates. Since the conditions were especially good that year, some made skates from saw blades. Karl Knoblesdorf, also known as the "Flying Dutchman," pursued ice skating and snowshoe travel as an occupation, delivering mail to and from winter camps on the river for a fee.