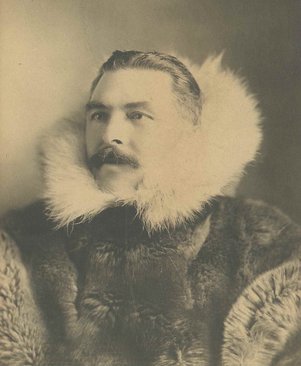 Courtesy of Candy Waugaman, Bettles Family Collection.
Pioneering shopkeeper
For several months he traveled through Fortymile country using a portable sluice box called a "rocker" to wash $50 per day from streambed gravel. However, as soon as he caught wind of prospects on the Kuskokwim River, he and his partner left in search of gold and adventure. After a long winter and no signs of gold, Bettles returned to the Yukon River and in partnership with the fur trader Al Mayo he started a trading station near the confluence of the Tanana River. This was the beginning of his career as a shopkeeper and entrepreneur in some of Alaska's most remote gold fields.
By 1890 a group of miners discovered gold on Koyukuk tributaries north of the Arctic Circle, and Bettles responded by ordering 20 tons of supplies and forming G.C. Bettles & Co. "From a pickaxe to a candle" was the company's motto in newspaper ads. Four years later he opened a store, or "beanshop" as the miners called them, at a place along the Koyukuk he called Arctic Village. Business was slow in the early years because only a handful of men were willing to brave harsh winters and dig through frozen Koyukuk gravel bars to collect gold dust, flakes, and nuggets. In addition to running his store, Bettles owned the Yukon River steamboats the Cora and the Koyukuk and traded with Alaska Native trappers for the furs of marten, red and silver fox, beaver, and mink. Early in his career as a shopkeeper, Bettles earned a reputation for generosity because he freely offered miners a "grubstake" of food and supplies that they could pay back when they found their gold.