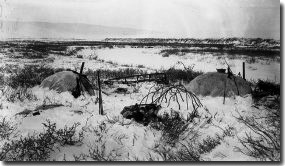 USGS photo by E. Leffingwell
For thousands of years, ancestral Nunamiut Eskimos lived a nomadic life centered around intercepting the migrations of caribou. These animals were the key to human existence in the Brooks Range, providing not only food and clothing, but also shelter.
The long winter months brought powerful gales, protracted snowstorms, and temperatures as low as fifty-five degrees below zero. To survive in these extreme conditions, Eskimo people invented a special kind of dwelling that brilliantly met these requirements—the itchalik, or caribou skin tent.
More than just a shelter, the itchalik was a family home for Nunamiut people—the place where women sewed and children played, where people ate their meals together, where stories were told through the long arctic nights, and where knowledge was passed from one generation to the next. Even today, not far from the frame house village of Anaktuvuk Pass, there is a tent village where people go to rest, play cards, and socialize.