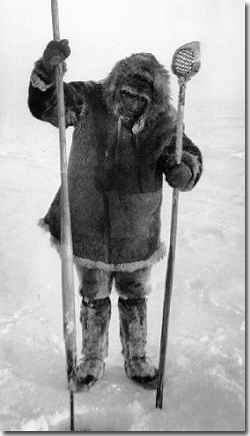 All rights reserved, Bailey Archive, Denver Museum of Nature & Science
Inland mountain Eskimos experience one of the world's most extreme winter climates—temperatures of 55 degrees below zero or colder, often with gale force winds and blinding snow. Despite these daunting conditions, Eskimo people carry on with their daily life of hunting, fishing, gathering firewood, traveling, and camping. The key to their success and survival—above all else—is warm, effective, brilliantly designed and expertly made clothing.
The Eskimo people make their warmest clothing from caribou hide—a material that evolved over millions of years in the Arctic environment, providing caribou with unequaled insulation against penetrating cold and gales. Caribou hair is hollow, so it traps insulating air not only between the hairs but also inside them. Clothing made from this material is extraordinarily warm, lightweight, water repellent and durable.
An Eskimo hunter dressed in traditional clothing was completely wrapped in caribou skins. His parka —a hooded jacket invented by Eskimos—was made of caribou skin and worn with the fur inside. For deep cold and storms, a second parka could be worn over the first, with the fur side out. A wolf or wolverine fur ruff around the hood created a little pool of warmth that protected the wearer's exposed face. Unlike other furs, wolverine also easily sheds the frost that collects from a wearer's breath.
Caribou skin pants (kuliksak) were worn with the fur facing inside or outside. The socks (aliqsik) were always worn with the fur to the inside. Mittens (atqatik) were preferred over gloves because fingers are less susceptible to frostbite when cocooned in the warm pocket of air within a mitten. To stop frigid drafts, people sometimes wore caribou fur wristlets and tied a belt (tavsi) around the parka waist.