Emergency Sheep Hunting Closure in Units 23 & 26(A)

All sheep seasons in Game Management Units 23 and 26(A) for all resident and nonresident hunters are closed due to severe decline in sheep numbers in the contiguous populations of the De Long and Schwatka Mountains. More »
Alatna River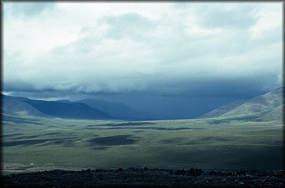 NPS Photograph
Dedicated a wild and scenic river on December 2, 1980, the Alatna River drains the central Brooks Range. Wildlife, spectacular scenery and interesting geologic features abound along the river corridor. The first twenty-five miles from the headwater lakes are rocky and can be very shallow. During low water a portage of several miles from the Summit Lake may be required and lining boats may be necessary as well.
| | |
| --- | --- |
| Approximate Length | 83 mi / 133.5 km within the park boundary |
| Scenic Quality | High; varies from snow-capped mountains to spruce-hardwood forest |
| Recreational Opportunities | Plentiful sightseeing, nature study, hiking, photography, fishing, and floating |
| Geologic Features | Rugged mountains of central Brooks Range, including Arrigetch Peaks |
| Natural Resources | Easily observed, variety of large and small mammals, migration route for arctic caribou herd |
| Cultural Resources | The Alatna has a rich cultural history. This valley is traditional hunting territory for the Koyukon Athabaskans and the Nunamiut Eskimos trace their origins to the upper regions. Dozens of historic and prehistoric sites spanning 4000 years have been identified. |


Did You Know?
Bob Marshall named Frigid Crags and Boreal Mountain "The Gates of the Arctic." These mountains are on the North Fork of the Koyukuk River.